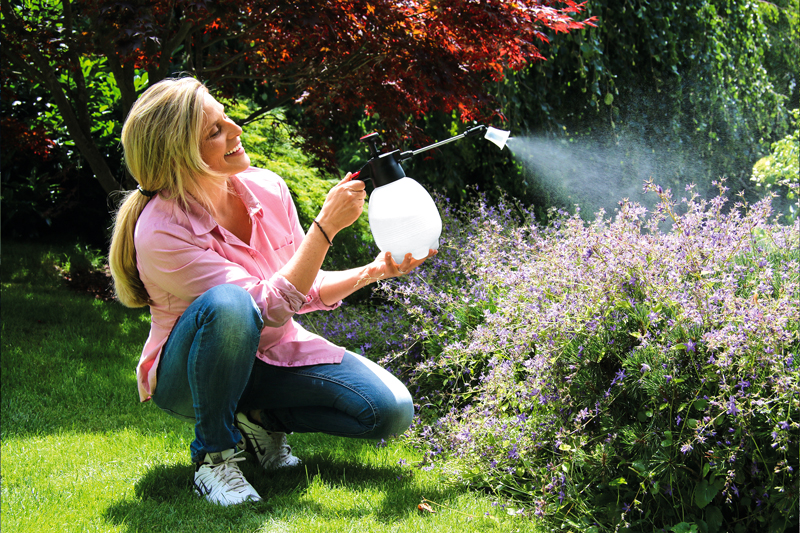 Manual sprayers from SOLO:
versatile tools for home and garden
With SOLO manual sprayers, you know that you are looking after and protecting your plants properly in the garden, on your balcony or patio, or in your home. The sprayers are light, compact and extremely versatile. Our CLEANLine models are suitable for aggressive liquids: they are chemically resistant and are therefore ideal for thorough cleaning and disinfection anywhere around the home.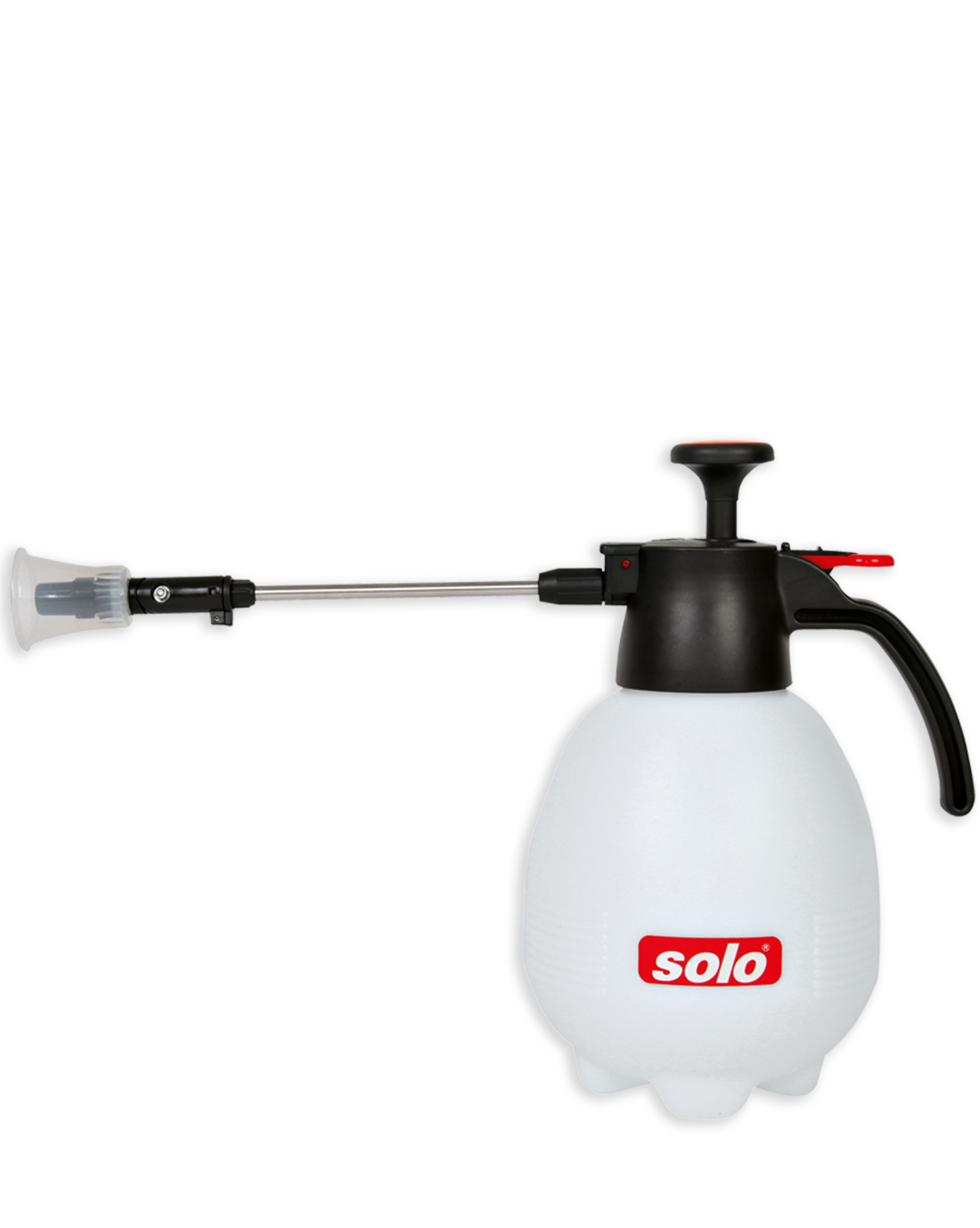 MANUAL SPRAYER 2L - 402
Do you need help making the right decision? We will be happy to help!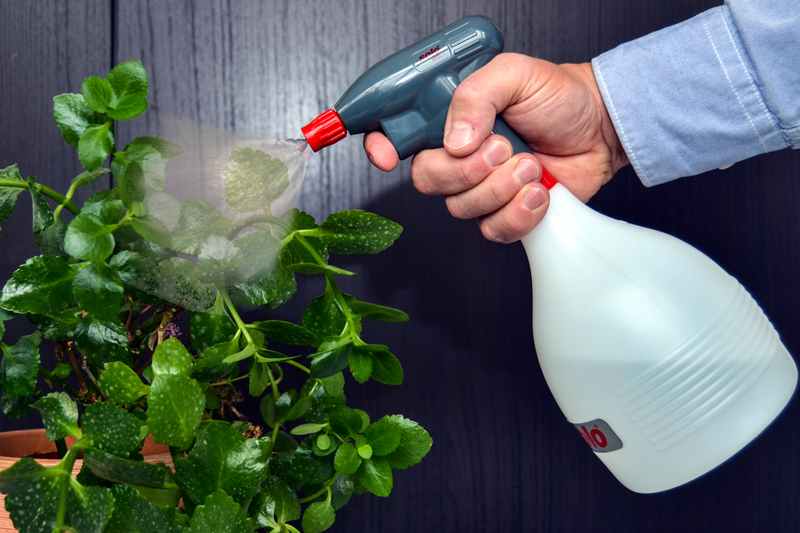 Manual sprayers for plant protection and care
I am looking for a simple, universal manual sprayer for small plants in the home and garden.
The high-quality SOLO 403 and 404 models are perfect for simple protection and care of small and low-growing plants. With a capacity of 1.25 and 2 litres respectively, you can use the manual sprayers easily to apply fungicides, insecticides and fertilisers or to water your plants.
They are affordable and very light to use, and the adjustable nozzle means that there is a gentle transition from a sharp jet to a fine mist. You can also switch to a continuous spray function very easily with the slider. This makes the SOLO manual sprayer a perfect aid for straightforward, simple plant care around the home.
Which sprayers are also suitable for reaching concealed parts of plants easily?
If you are looking for a versatile pressure sprayer for greater range and precision, the SOLO 401 and 402 manual pressure sprayers are the right choice.
Thanks to the robust stainless steel spray wand, you can also reach concealed and hard-to-reach planting areas. For example, you can treat the underside of affected leaves conveniently and effectively with the universal nozzle that swivels through 180°.
The small, removable drift guard also ensures that the spraying agent only ends up where you want it. They are ideal when you want to apply fungicides, insecticides or fertilisers in your garden or greenhouse.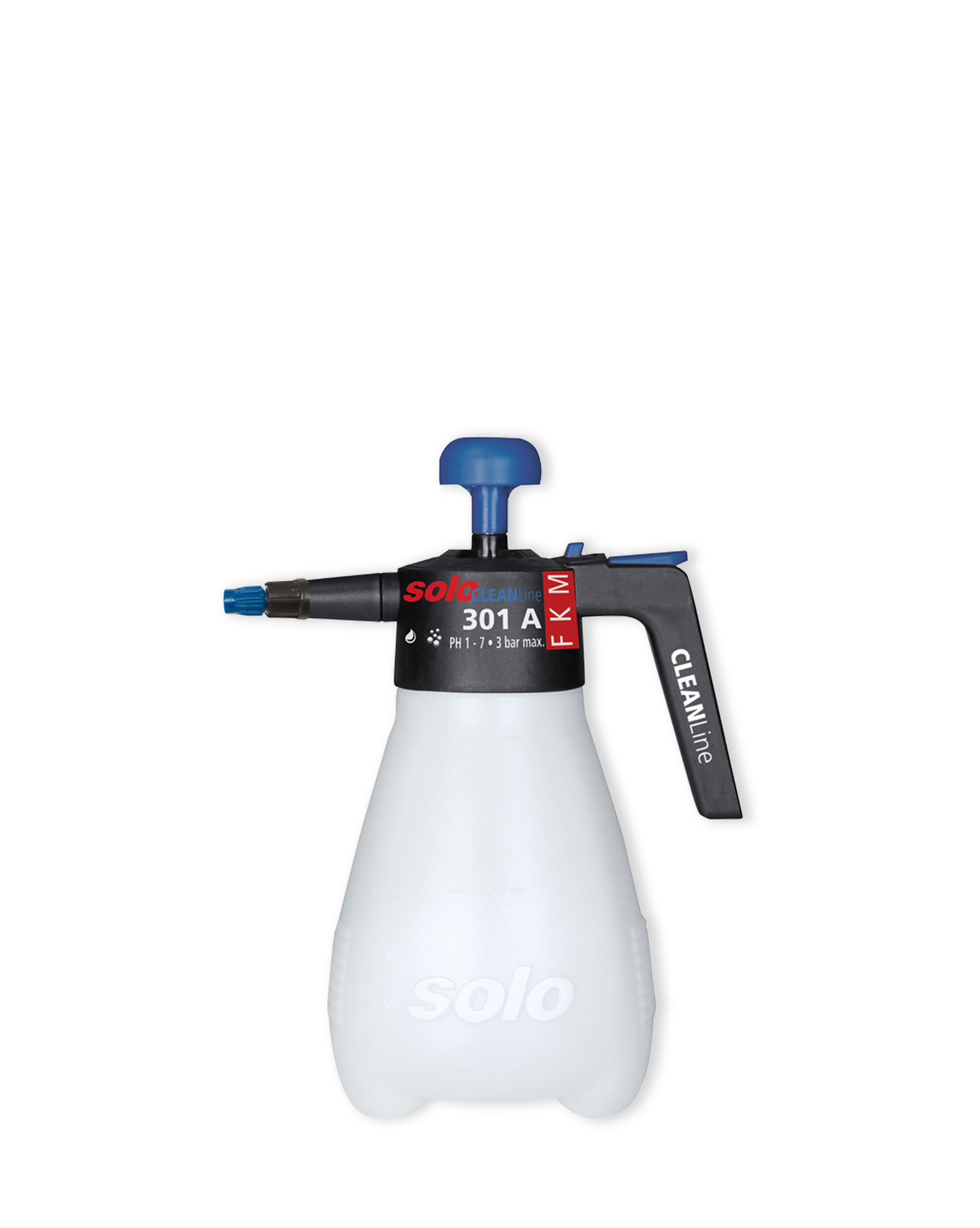 Sprayers for cleaning and disinfection
Which sprayers are suitable for applying acidic agents?
The SOLO 301 A and 302 A manual sprayers from the CLEANLine range have a special FKM seal which can withstand even extremely acidic cleaning agents with low pH values of 1-7 and agents containing oil. The tank is UV-resistant and can be filled precisely and easily with the large filling aperture and the marked scale. The sprayers are ideal for tackling limescale residues, water marks, germs and bacteria.
They are perfect for professional cleaning of plumbing fittings, machines and stainless steel components and for cleaning wheel rims and brakes.
Which models are suitable for alkaline and alcohol-based cleaning agents or disinfectants?
The SOLO 301 B and 302 B models in the SOLO CLEANLine series have a high-quality EPDM seal, which is resistant to alkalis and agents containing alcohol in the pH range 7-14. The light but extremely robust tank is UV-resistant, and its large filling aperture and easy-to-read scale allows precise and simple filling of the manual sprayer.
Perfect when you want to remove stubborn dirt effectively, such as grease, oil and protein residues in the kitchen, when cleaning glass and washing the car. Both sprayers are also suitable for applying alkaline pre-cleaners, disinfectants and insect removers.
Can I also use the sprayers for solvents?
The SOLO CLEANLine sprayers in the A-series have FKM seals that are suitable for aggressive media such as acids, but also for products that contain oil and solvents. The enclosed pumps of the sprayers prevent the fluids from causing mechanical damage and thus ensure that the devices have a long service life.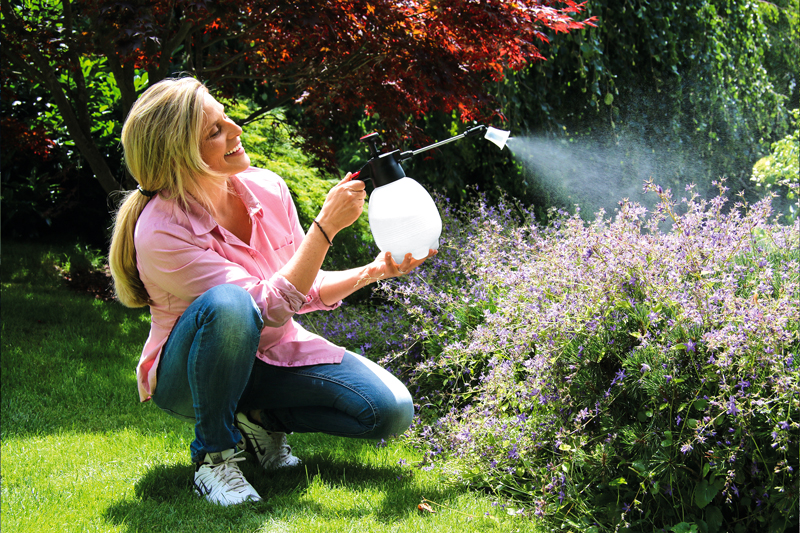 Matching accessories for your SOLO manual sprayer
Can I make further adaptations to the functions of the manual sprayers?
A practical accessory for both the SOLO 401 and the 402 manual sprayers is the telescopic wand (49628), which can be extended between 25 and 50 cm. The telescopic function makes it easier to reach parts of plants that are difficult to access or concealed. With the integrated nozzle head that rotates through 180°, the underside of affected leaves can also be treated conveniently and effectively.
Are accessories available for all manual sprayers?
No, at the moment there are only suitable accessories for the SOLO 401 and 402 manual sprayers.
Sprayers and misters from SOLO: tools for any job
The high-quality sprayers and misters from SOLO are practical aids for plant protection, pest control, cleaning and disinfection – both in private and professional use.
Contact
Would you like some individual advice, or do you have questions about our products? Our experts will be happy to help! From 8 a.m. to 4 p.m.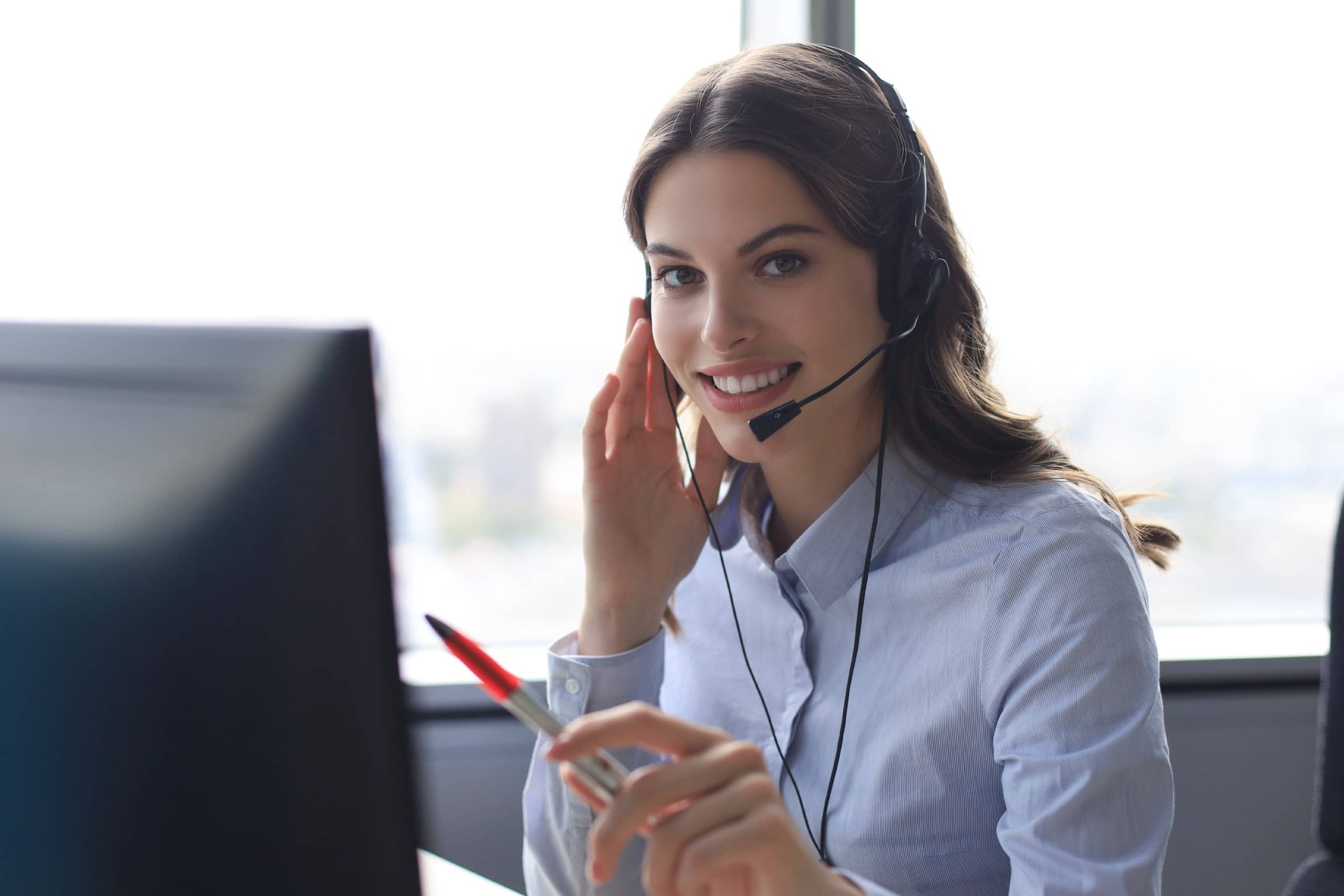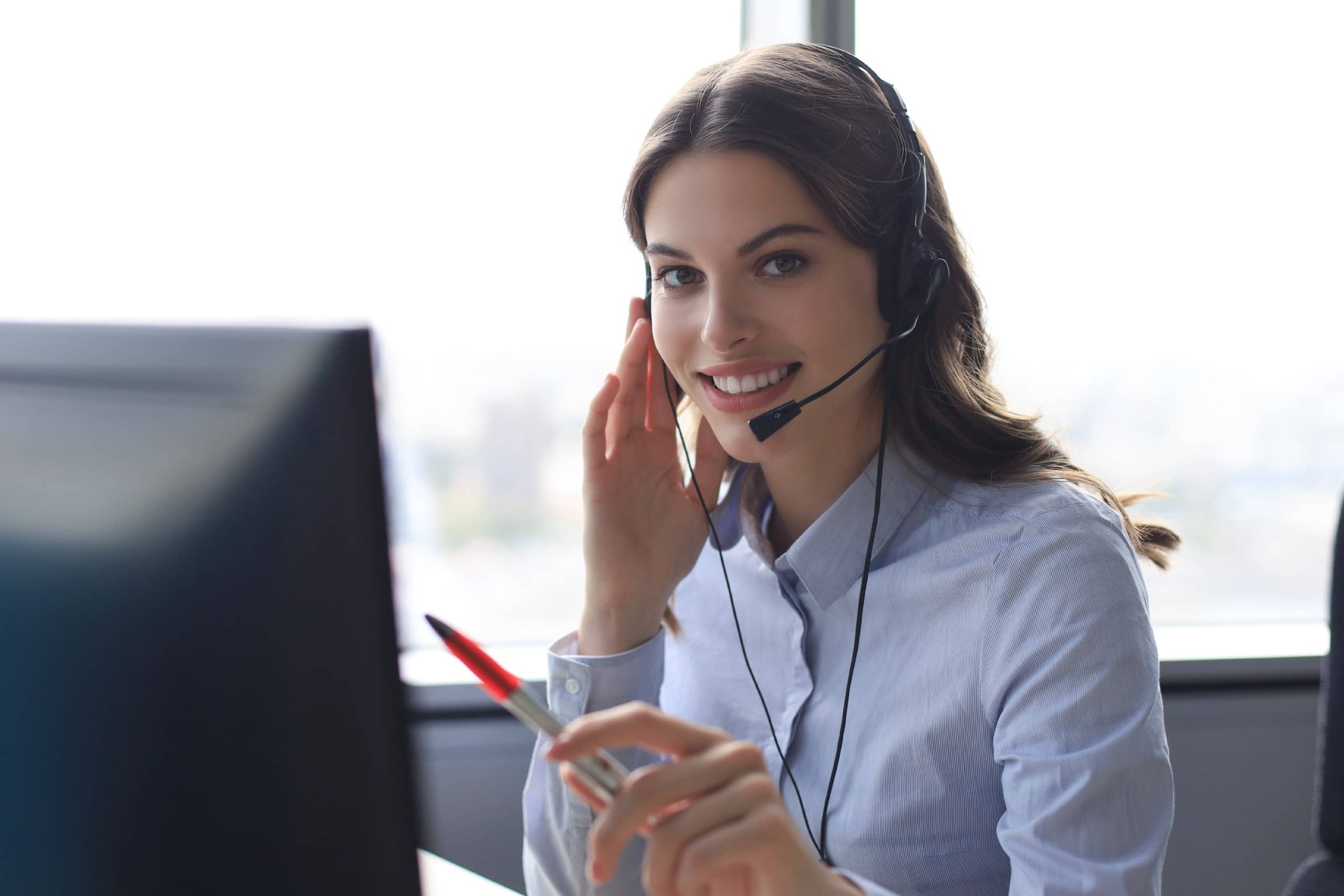 Have you got any questions or would you like to see for yourself on site?
Find a SOLO partner near you.
Please enter your location (e.g. postcode, address, city or country) to find your nearest SOLO partner.
Subscribe to the newsletter and
enjoy 10% discount.
Never miss another promotion, offer or product launch!

Manual sprayers for plant protection & Plant care
Manual sprayers are affordable and essential aids for a wide range of applications around the home and garden. Balcony and patio plants and of course all indoor decorative plants can be cared for easily and reliably using the compact SOLO sprayers.
With the resilient SOLO sprayers in the CLEANLine range, you can also ensure effective and reliable cleanliness and hygiene in the home and in your vehicle.

Pressure sprayers from SOLO:
sowing seeds, care and protection
SOLO sprayers have robust pumps that make work easier for you by reaching the necessary operating pressure after just a few strokes. Once the maximum pressure has been built up, almost the entire contents can be dispensed without re-pumping. The integrated pressure valve prevents excess pressure.
The high-quality hollow cone nozzle of the manual sprayers is adjustable and delivers everything from a sharp jet to a fine mist. The robust tanks have a large filling aperture so that filling and emptying is straightforward, and the bases prevent them from tipping over even when full.
The high-quality SOLO Classic 403 and 404 manual sprayers with a capacity of 1.25 and 2 litres respectively are our most affordable manual sprayers for the garden and home. With the SOLO 460 Li battery-operated manual sprayer, you can apply the spraying agent without any tiresome pumping thanks to the small but powerful electric pump. And it goes on doing so for up to 60 minutes without recharging. The flexible internal suction tube ensures continuous application of the medium and even makes it possible to spray overhead.
The underside of leaves can be treated very effectively with the SOLO 401 and 402 models. The swivel nozzle and small drift guard ensure that the contents of the spray only end up where they are really needed. This prevents unwanted contact of the spraying agent with neighbouring plants. Whether it's fungicides to stop a fungal infestation, insecticides to fight pests or fertilisers or water to look after your plants.
Chemical-resistant sprayers for cleaning and disinfection
The CLEANLine manual sprayers have solid plastic tanks that are resistant to UV radiation and chemicals. They come in two versions: "A" with FKM seals and "B" with EPDM seals. You should choose the right seal for your planned application of the cleaning sprayer.
If, for example, you want to apply concentrated or diluted acids in the pH range 1-7, the "A" devices with the FKM seals are the right choice. They are also suitable for working with liquids that contain oil, solvents or chlorinated hydrocarbons. The 301 A and 302 A models with 1.25 and 2 litres nominal capacity respectively are manual pressure sprayers of this type.
If alkalis are being used, the "B" sprayers with EPDM as the sealing material are used. These include the SOLO 301 B and 302 B CLEANLine manual sprayers. Alcohols and bases in the pH range 7-14 do not cause any problems for the materials and enclosed pumps in these sprayers. These solid manual sprayers are even suitable for alkaline pre-cleaners, insect removers and disinfectants.
PAYMENT OPTIONS
WE SEND WITH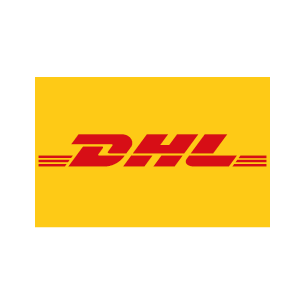 CERTIFIED ONLINE SHOP