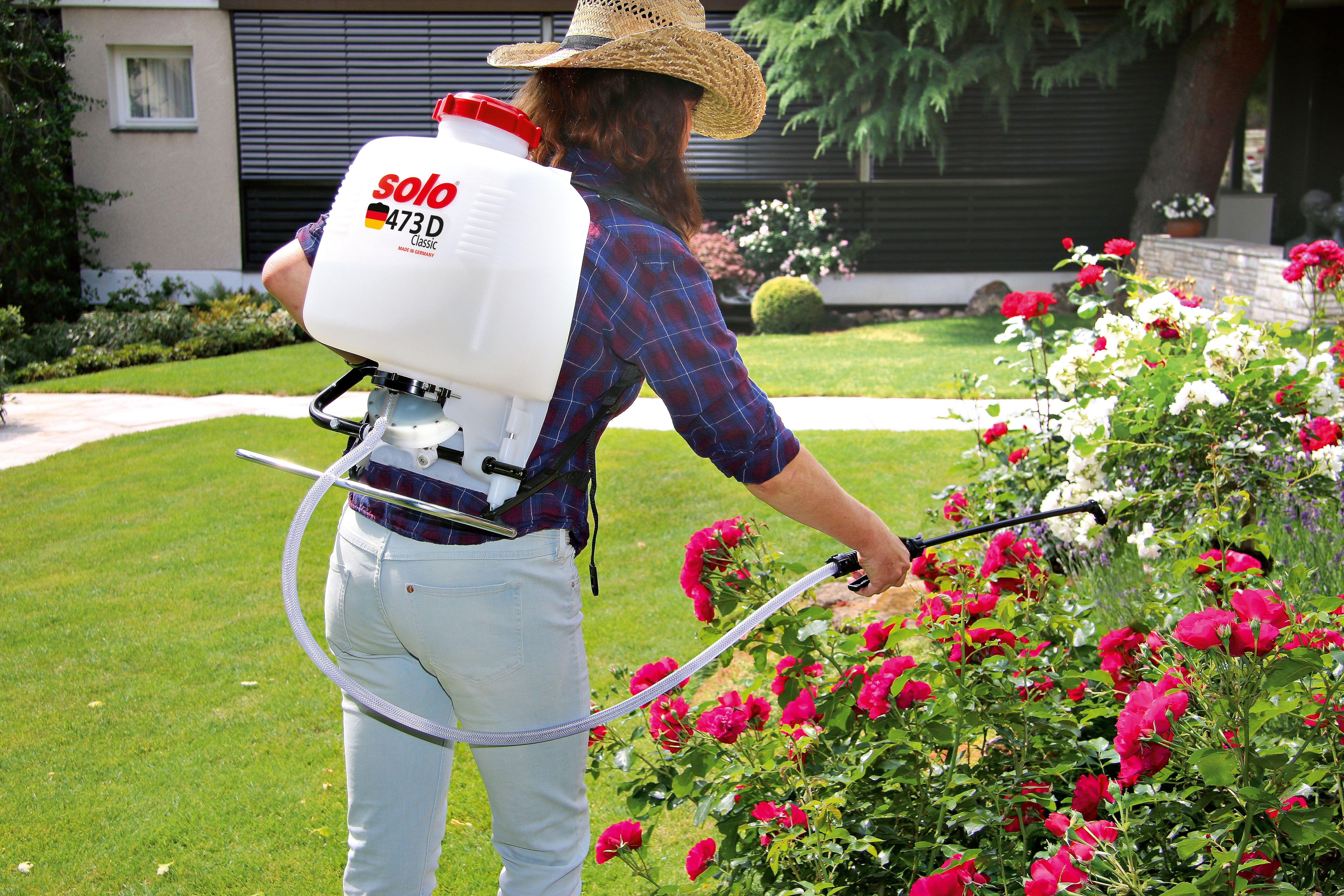 Backpack sprayers from SOLO:
More comfort and power for longer jobs
SOLO backpack sprayers are light, ergonomically shaped and have powerful pumps for greater comfort and efficiency when working over long periods. At SOLO, you will find the perfect tool for any job – whether it's for occasional use in the garden or more demanding tasks in large areas.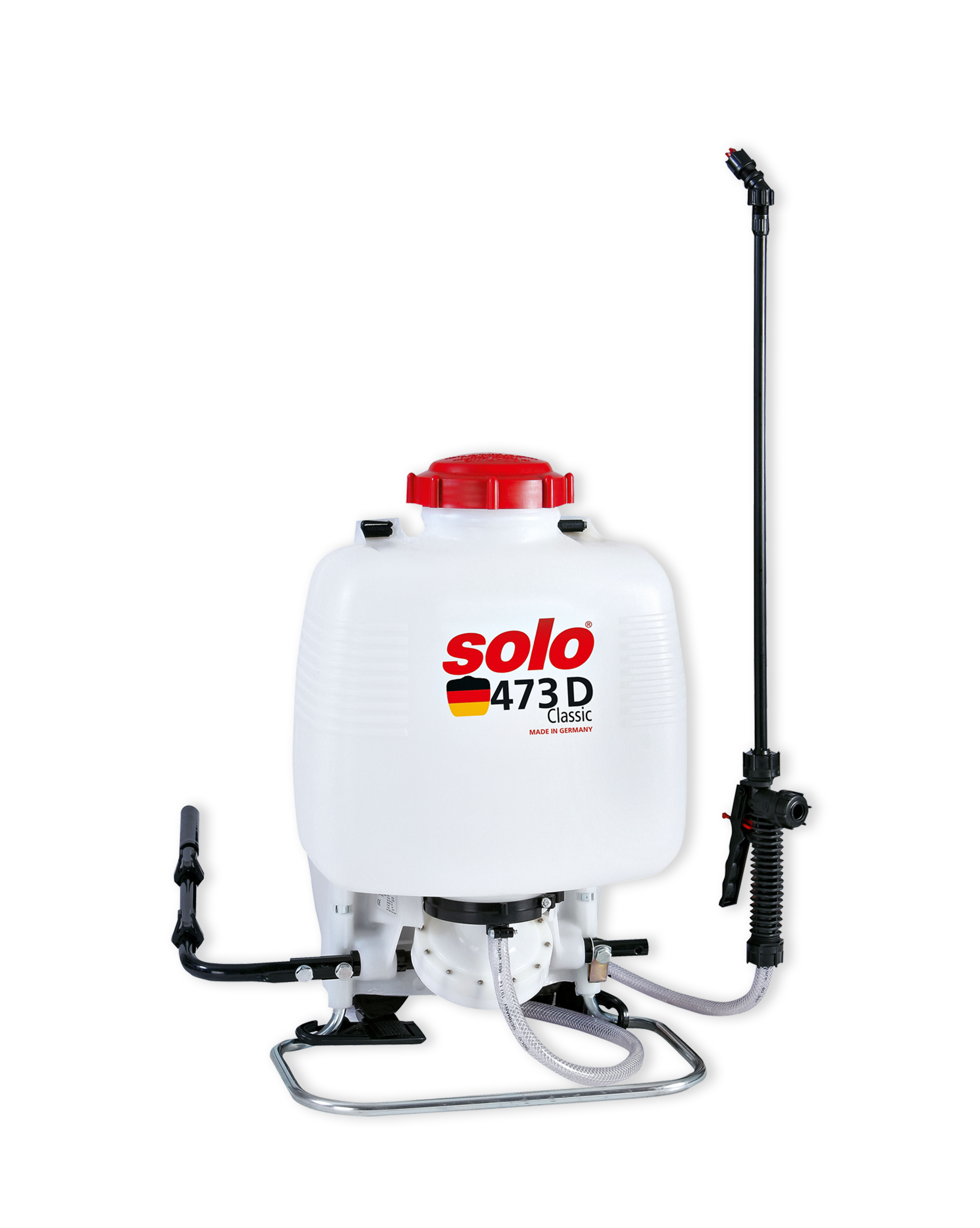 Backpack sprayer 10L – 473 Classic
Accessories for SOLO devices
---
SOLO has a comprehensive range of accessories that make your SOLO device even more versatile and convenient to use.
Do you need help making the right decision? We will be happy to help!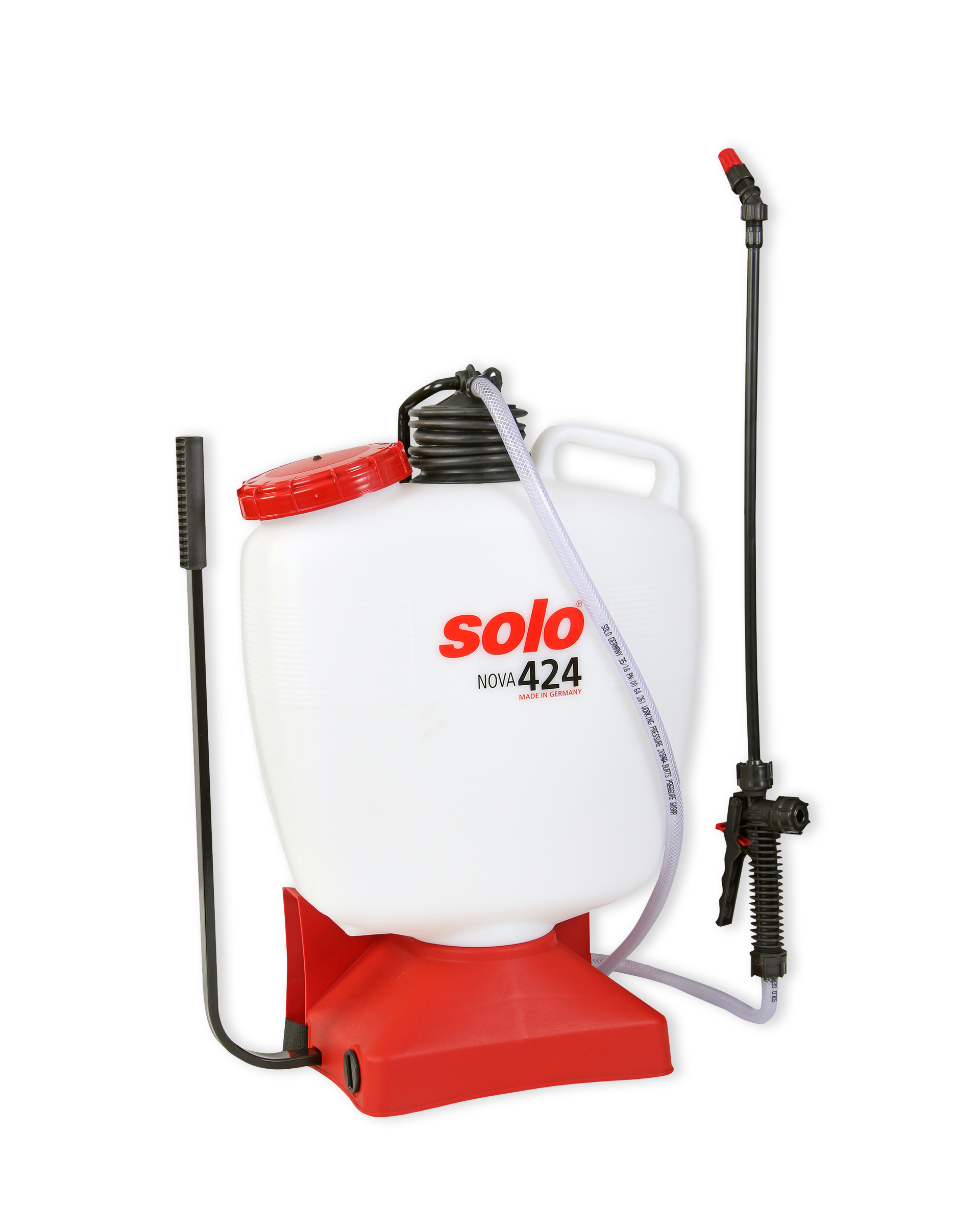 Classic
or Comfort backpack sprayer?
When should I opt for a backpack sprayer from the SOLO Classic range?
The SOLO backpack sprayers from the Classic range are sturdy and are designed for occasional use in professional areas. They can be used with any approved spray liquids and liquid fertilisers. The Classic models are most suitable for simple tasks and occasional plant protection applications in medium-sized gardens and greenhouses.
What are the advantages of a backpack sprayer from the Comfort range?
The extremely sturdy backpack sprayers in the Comfort range have comfortably cushioned shoulder straps, which makes them ideal for challenging tasks and intensive plant protection in larger areas. SOLO backpack sprayers are aimed at users with high expectations and allow you to apply all approved spray liquids and liquid fertilisers without any points of contact with the medium.
All Comfort models have FKM (Viton) seals, which are resistant to acidic and alkaline chemicals. As a result, backpack sprayers can also be used in trade and industry. With Comfort backpack sprayers, you can apply disinfectants and detergents and control pests and diseases.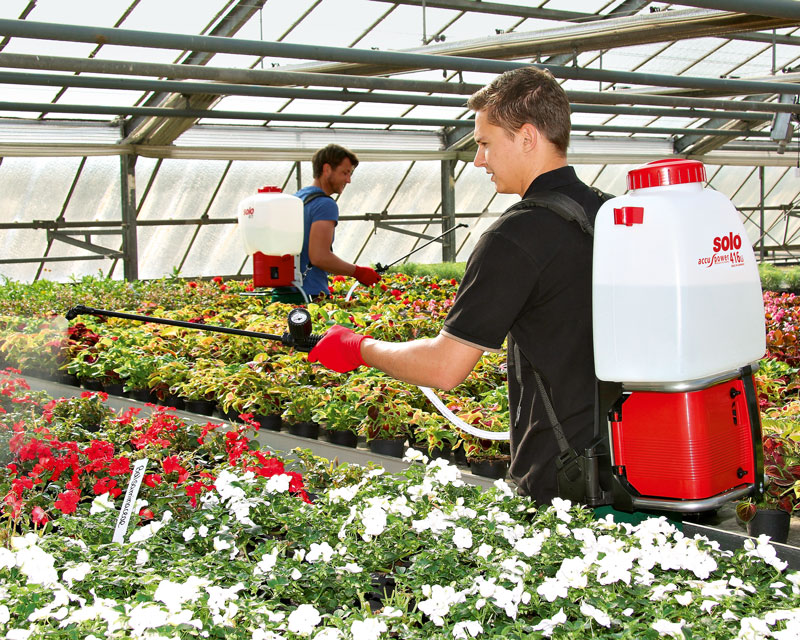 Piston pump, diaphragm pump or electric pump?
What are the models with piston pumps used for?
Backpack sprayers with piston pumps are suitable for working at higher pressure and for applying (thin) agents with low viscosity.
When should I opt for a backpack sprayer with a diaphragm pump?
If you tend to work in lower pressure ranges, backpack sprayers with diaphragm pumps are the right choice. With these special backpack sprayers, you can apply more abrasive agents (suspensions) and more viscous substances without difficulty.
What are the advantages of models with an electric pump?
The electric pump in the battery-operated backpack sprayers delivers the necessary pressure for the device all on its own. This means that you can work efficiently in large gardens with decorative plants and crops without fatigue. Battery-operated backpack sprayers are quiet, free of emissions and low-vibration. They are therefore perfect for applications in enclosed spaces such as greenhouses.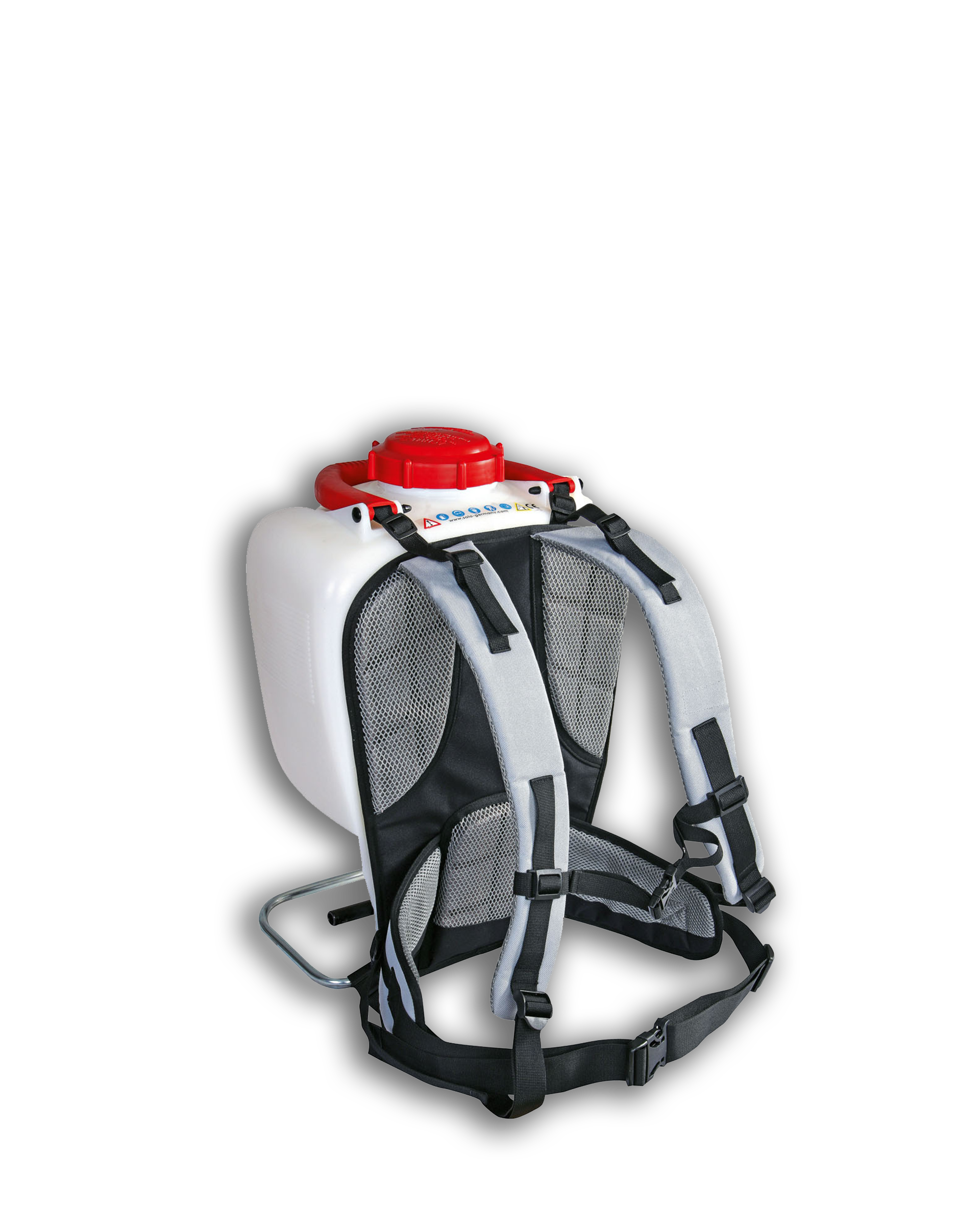 Accessories for SOLO backpack sprayers
Which accessories are available for backpack sprayers?
From a professional backpack carrying system for maximum comfort to a wide range of nozzles, drift guards, spray wands and booms – the extensive range of SOLO accessories offers plenty of extras to extend the areas of application of SOLO sprayers significantly.
Can I simply replace the seals?
You can replace the seals on the backpack sprayers very easily yourself by following the instructions. For the 425 and 435 models, there is a standard set of seals (49442) and a set of FKM seals (49578) in our range of accessories. For the 473 D and 475 backpack sprayers, a standard seal kit (49443) and an FKM seal kit (49579) are also available.
Spraying and spreading with SOLO: the perfect aids for any application
Whether it's for private use in your own garden or as a professional: with the robust and extremely versatile products from SOLO, you are up to any challenge. With SOLO you always enjoy the advantages of the highest quality and performance – whether it's for professional plant protection, cleaning and disinfection or use in the building trade.
Contact
Would you like some individual advice, or do you have questions about our products? Our experts will be happy to help! From 8 a.m. to 4 p.m.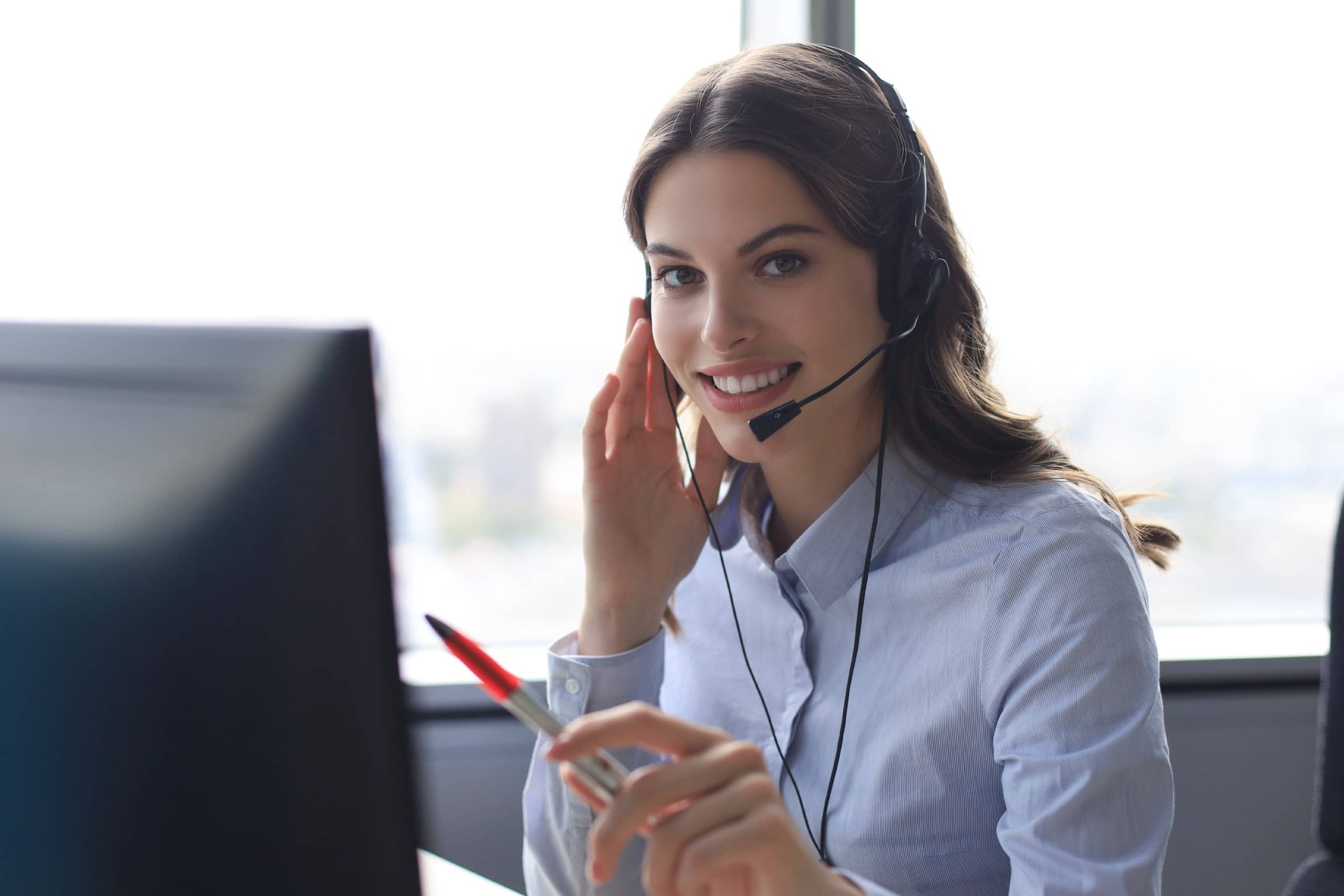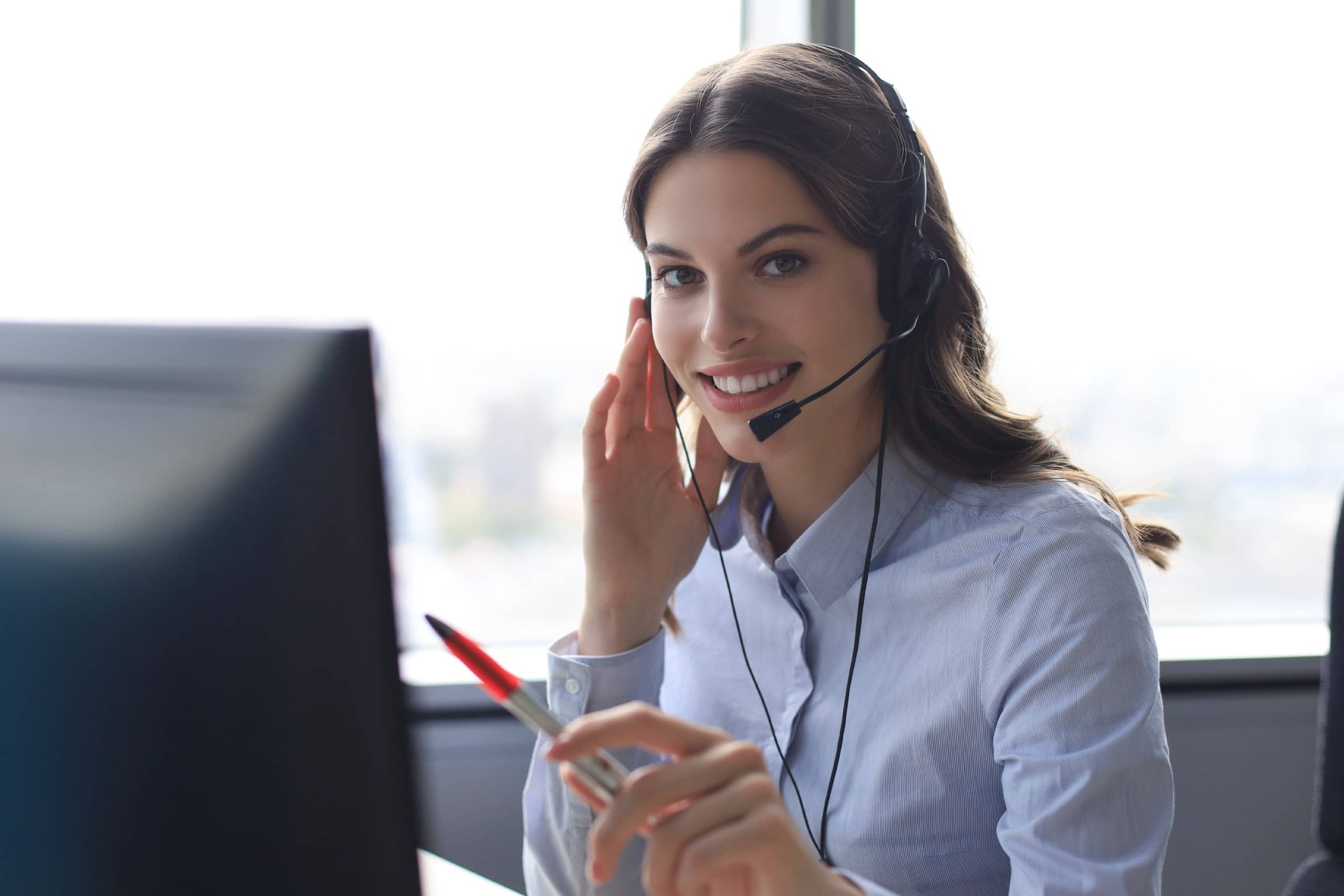 Have you got any questions or would you like to see for yourself on site?
Find a SOLO partner near you.
Please enter your location (e.g. postcode, address, city or country) to find your nearest SOLO partner.
Subscribe to the newsletter and
enjoy 10% discount.
Never miss another promotion, offer or product launch!

Backpack sprayers for effective plant protection
SOLO | The better choice. Since 1948.
We have plenty of experience when it comes to plastic backpack sprayers: we began producing fully plastic sprayers back in 1960. The lightness of the material and its durability are just two of the many good reasons to opt for SOLO backpack sprayers. Whether with a piston or a diaphragm pump:
the pumps in SOLO backpack sprayers are among the smoothest running and most efficient on the market. Longer periods of work are therefore possible without any problems. The ergonomic shape of the backpack sprayers is inspired by the human spine. The soft, padded shoulder straps also ensure the best possible comfort.
The sprayers can be used for weed control and maintenance of private gardens, decorative plants, crops, shrubs, espaliered trees and other trees. The backpack sprayers are also suitable for professional applications, such as agriculture, horticulture and landscape design.
SOLO sprayers: Classic & Comfort
The SOLO 424 NOVA Classic line backpack sprayer with a 16 l tank, the 425 Classic with a 15 l tank, the 435 Classic with a 20 l tank, the 473 D Classic with a 10 l tank and the 475 Classic with a 15 l tank come with all the basic features and are ideal for simple, occasional plant protection in medium-sized areas and in greenhouses. The sprayers can be used to apply chemical and biological plant protection spray media and liquid fertilisers.
The tanks, which are resistant to UV radiation, are transparent, making the fill level easy to see. They are filled and emptied through a large filling aperture. There is also a removable filling strainer in the aperture.
The sturdy pump level of the sprayers can be fitted to the right or left side. The transparent fabric hose is particularly sturdy and offers great reach. The very strong manual valve with actuation lock also ensures fatigue-free working and can be fitted with a pressure gauge as an option.
The Comfort range includes the SOLO 425 Comfort backpack sprayer with a 15 l tank, the 435 Comfort with a 20 l tank and the 475 Comfort with a 15 l tank capacity. They are extremely easy to use. That makes them practical tools for challenging plant protection tasks in larger areas, including tree nurseries.
SOLO Comfort models also have a pump lever that is ergonomically refined, rotatable and adjustable in length. For convenient transport, the Comfort models have a carrying handle with an integrated spray wand retainer.
Comfort sprayers also have extremely resilient FKM ("Viton®") seals for applying aggressive fluids. This means that they can be used to apply herbicides, fungicides, insecticides, sprayable biological plant protection media, detergents and disinfectants without any problems. The pressure can be set to four different levels for application of precisely the right amount.
For longer periods of work in large areas, battery-operated backpack sprayers are worth using. The electrically operated SOLO 417 Comfort, 416 Li Pro and 441 Classic sprayers make your work easier, as the integrated electric pump delivers the pressure required entirely automatically.
The backpack sprayers with manually operated pump come with a plastic flat spray nozzle and a twin hollow cone nozzle as standard. The battery-operated backpack sprayers, on the other hand, are supplied with one flat spray nozzle.
Accessories & spare parts
The extensive range of accessories allows the potential applications of the sprayers to be extended much further. Spare parts for SOLO backpack sprayers are available for years after your purchase. Our customer service team will be happy to send you the right spare parts with a repair guide, whatever your needs.
PAYMENT OPTIONS
WE SEND WITH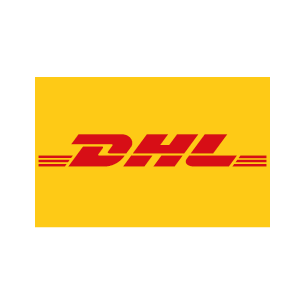 CERTIFIED ONLINE SHOP