Manual sprayers Pressure sprayers Foam sprayers.
Designed for cleaning and disinfection.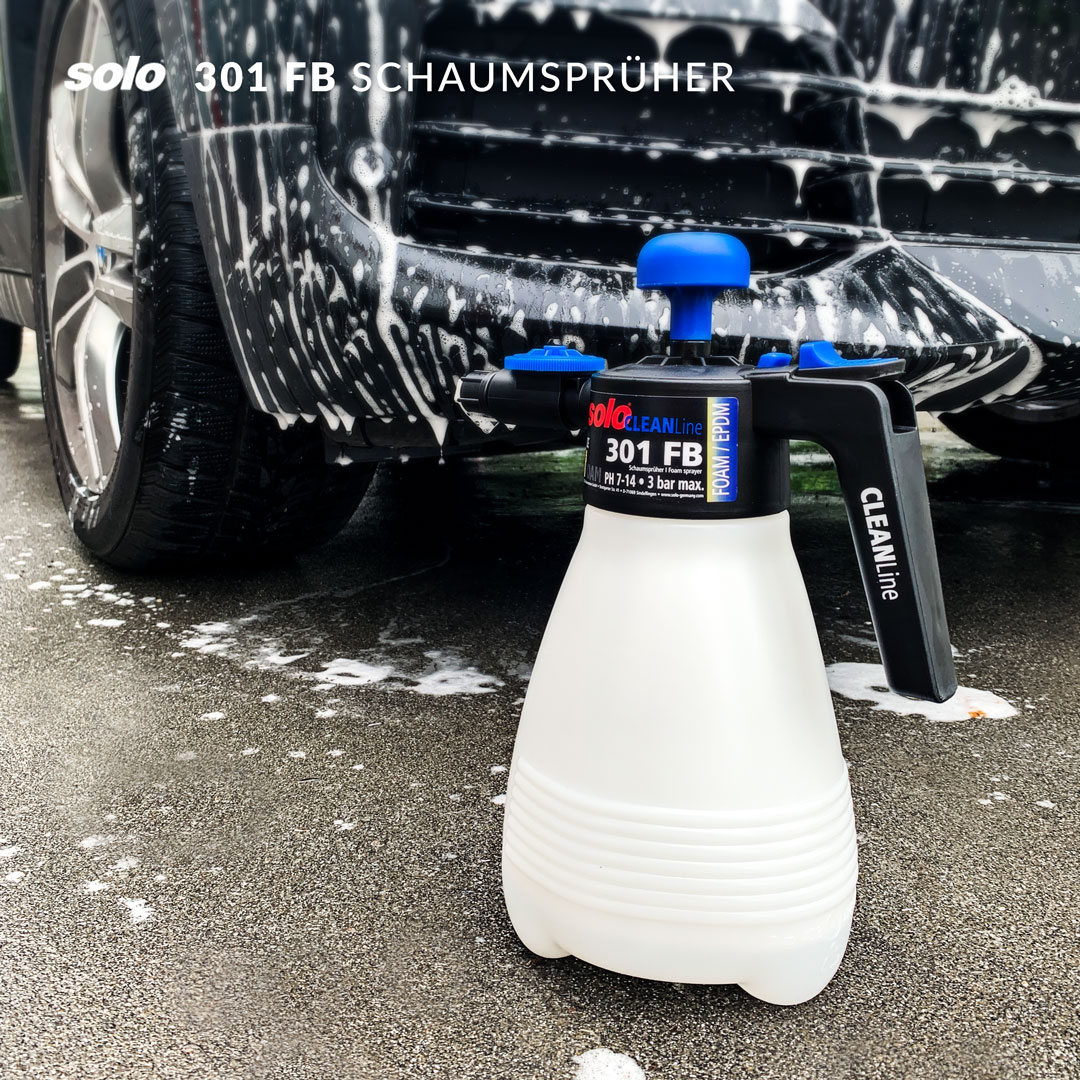 FKM- and EPDM seals
If you want to apply concentrated or diluted acids in the pH range from 1-7, the devices with FKM seals are the right choice.
They are also suitable for working with agents that contain oil or chlorinated hydrocarbons.
When are products with EPDM seals used?
With bases, EPDM seals are used for our sprayers.
EPDM is an abbreviation for ethylene-propylene-diene (monomer) rubber. The material is made of a high-quality, rubber-elastic, synthetic elastomer consisting of very long, saturated and highly stable molecular chains, namely the macromolecules ethylene, propylene and diene.
Alcohols and bases in the pH range from 7 to 14 do not pose any problems for this material.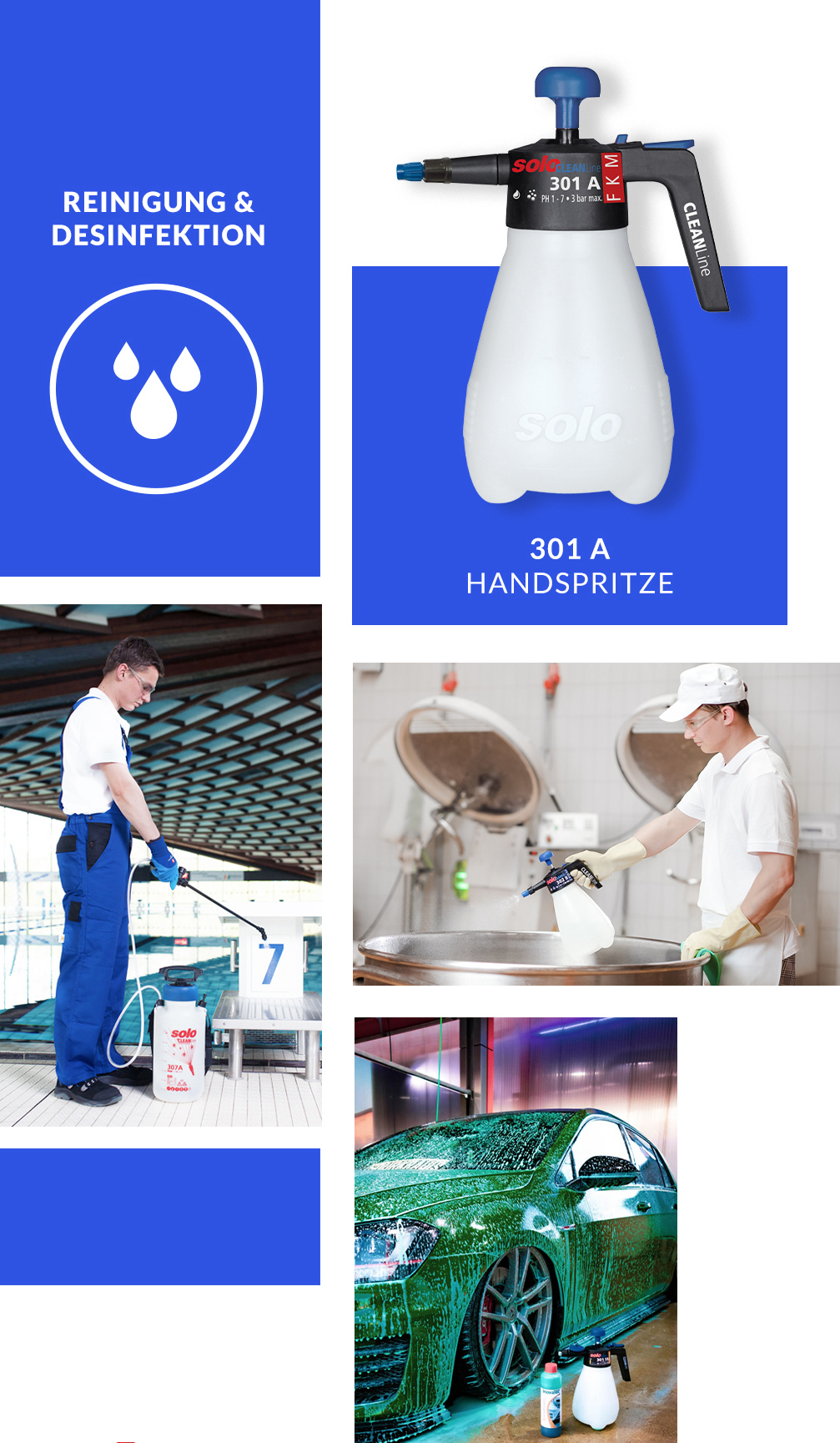 Products for cleaning and disinfection in alkaline and acidic areas
What sprayers are designed for the pH range 7-14?
The following products with the suffix B and FB feature EPDM seals:
– SOLO CLEANLine 301 B and 302 B manual sprayers
– SOLO CLEANLine 305 B and 307 B pressure sprayers
– SOLO CLEANLine 301 FB and 309 FB foam sprayers
Which models are suitable for alkaline and alcohol-based cleaning agents or disinfectants?
Our SOLO 301 B and 302 B models from the CLEANLine range have a high-quality EPDM seal which is suitable for agents that are alkaline or contain alcohol in the pH range 7-14.
The light but extremely robust tank is UV-resistant, and its large filling aperture and easy-to-read scale allows precise and simple filling of the manual sprayer.
Perfect when you want to remove stubborn dirt effectively, such as grease, oil and protein residues in the kitchen, when cleaning glass or washing the car. They are also suitable for application of alkaline pre-cleaners, disinfectants and insect removers.
Which products are suitable for acidic agents?
The following sprayers feature FKM seals for pH range 1-7 :
SOLO 301 A and 302 A manual sprayers
SOLO 305 A and 307 A pressure sprayers
SOLO 301 FA and 309 FA foam sprayers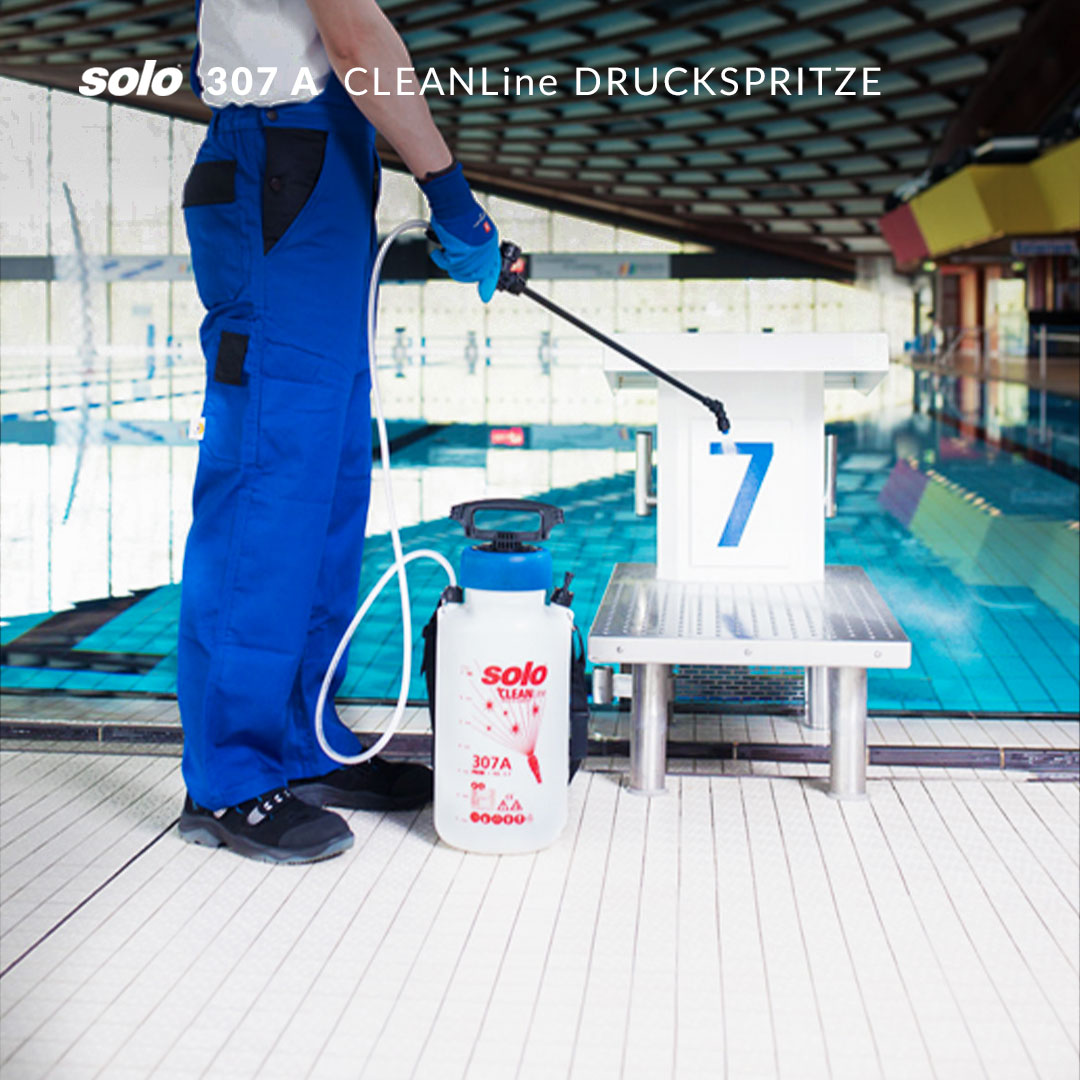 Applications for sprayers and misters
Where can I use the sprayers from the SOLO CLEANLine series?
For commercial cleaning
in the automotive sector
in plumbing
in bathrooms and toilets
in swimming pools
in sauna areas
thermal areas
fittings
When should I use the foam sprayer ?
Our foam sprayers are ideal when cleaning involves treating surfaces with a long exposure time.
A foam with a drier setting remains on the surface for longer. On vertical surfaces, the detergent does not run off so quickly. This makes a crucial difference to the cleaning effect. Depending on the type of foam cleaner to be applied, there are models with FKM and EPDM seals to choose from.