Do you need help making the right decision? We will be happy to help!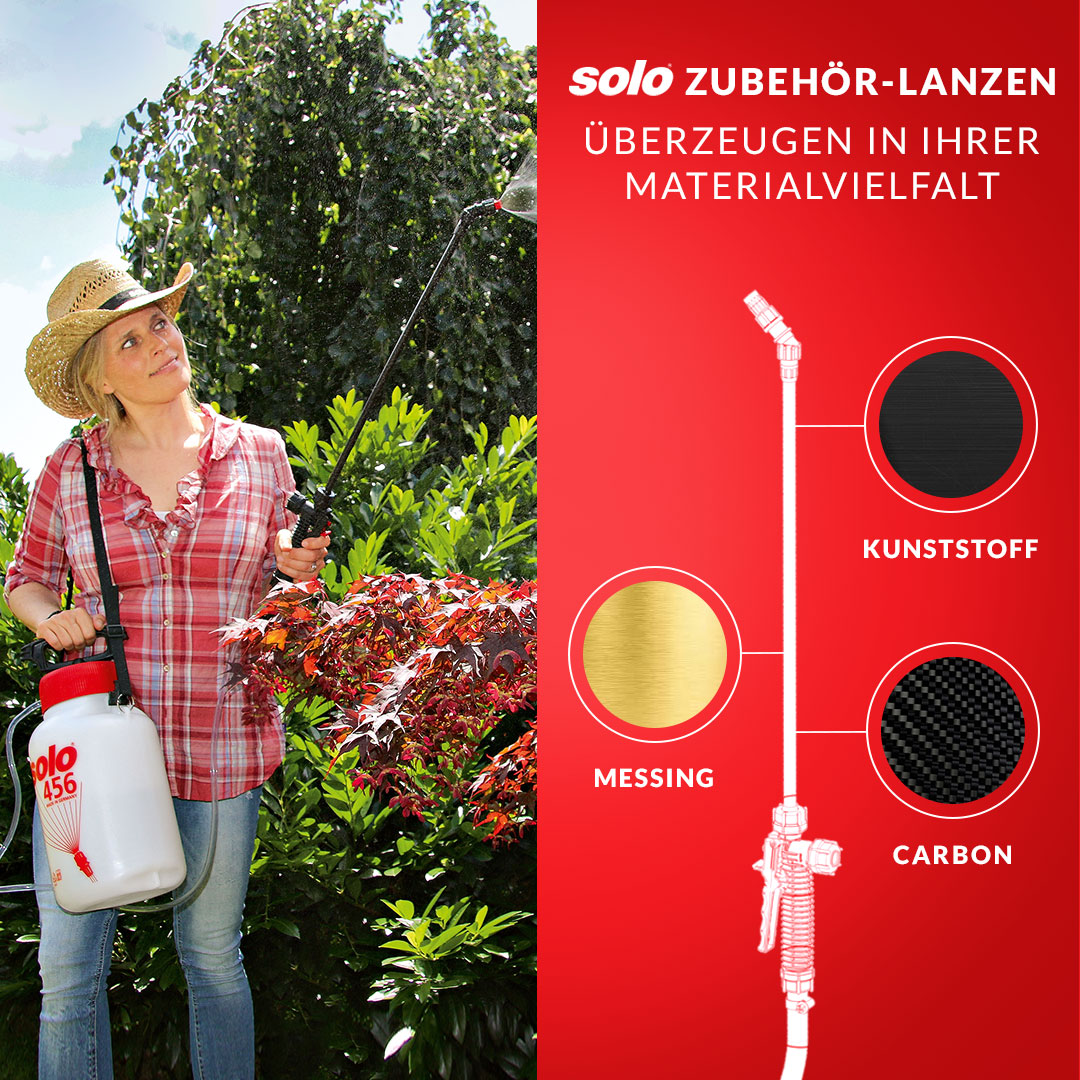 Wand for pressure sprayers and backpack sprayers
Which spray wands are suitable for the SOLO 456 & 457 models?
SOLO 456 & 457 pressure sprayers are suitable for applying all approved plant protection spray mediums. They both have a 1.6 m long and wide shoulder strap. Both pressure sprayers are the perfect tools for professional use of plant protection spray medium on smaller areas.
Suitable wands for the pressure sprayers are:
universal wand 50 cm (Item no. 49610)
50 cm extension wand (Item no. 49513)
brass spray wand 50 cm (Item no. 49519)
B

rass spray wand 75 cm (Item no. 49428)
Brass telescopic spray wand 57 - 100 cm (Item no. 49478)
Brass tree spray wand 150 cm (Item no. 49528)
Carbon tree spray wand 120 cm (Item no. 49449)
Carbon telescopic spray wand 60 - 120 cm (Item no. 49457)
Flexible spray wand extension 15 cm (Item no. 49450)
What are the possible uses of the SOLO flexible double spray head 60 cm?
There are many possible uses for the flexible double spray head: for example, it can be used to treat a plant or a row of plants from two sides at the same time, or to spray two rows at the same time. As a pincer nozzle, it can be used for single plant treatment and for sprayable game protection agents.
The double spray head with its two flexible spray wand ends has a total working width of 60 cm. It comes with a nut for mounting on any SOLO spray wand, preinstalled hollow cone spray nozzle and hollow cone nozzle in two other sizes. It is also possible to fit other nozzle types in different sizes.
It is recommended for the following models:
SOLO 424 – 425 – 435
SOLO 473 D – 475
SOLO 416 Li – 417 – 441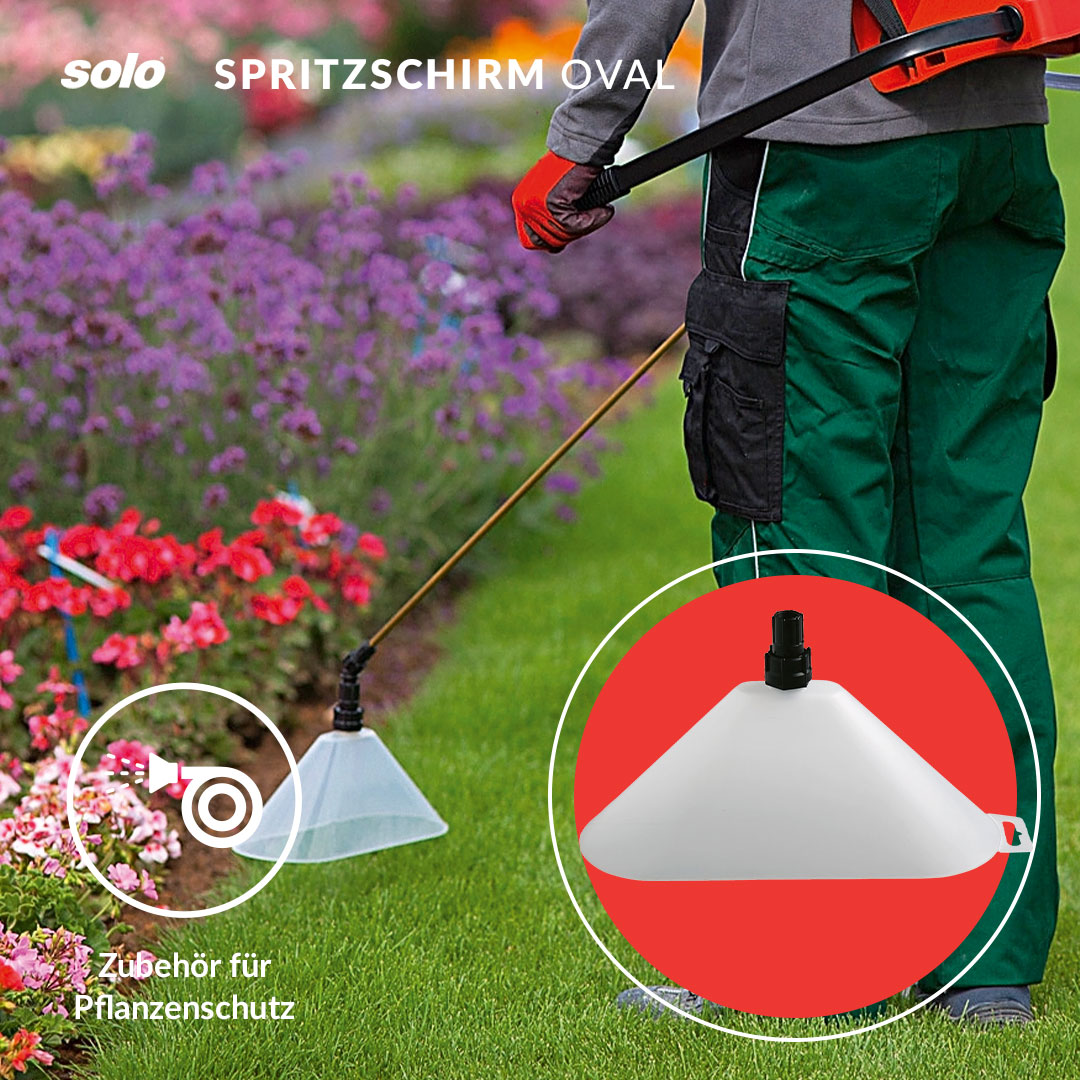 Nozzles and drift guards for pressure sprayers and backpack sprayers
What can I use the oval drift guard for?
The oval drift guard 30 x 11.5 cm is designed for herbicide use against weeds on large areas and for targeted spraying on areas along borders.
The drift guard offers protection against unwanted droplets drifting into neighbouring areas with crops or water bodies. It is equipped with a flat spray nozzle for a band-shaped spray pattern that is limited effectively to the sides because of its umbrella shape.
A new feature is the transparent design of the guard for optimum visibility on the surface to be treated while working.
We recommend combining it with our 75 cm brass spray wand or our short telescopic spray wands.
What nozzles does the complete nozzle set include?
The set contains a total of
nine different and high-quality flat spray,
deflector and hollow cone nozzles.
Four flat spray nozzles for area treatment

and row spraying. With band-shaped spray pattern in

sizes 015, 02, 03 and 04.

Two deflector nozzles for the application of

herbicides: for area treatment and working in

low pressure ranges with coarse droplet application and

band-shaped spray pattern. The nozzles come in sizes DT

1.0 and DT 2.5.
Three hollow cone nozzles for treating upright single plants, shrubs, large scale planting, especially for insecticides and fungicides.



The
three matching nozzle caps
have holes 1.0 mm, 1.4 mm and 1.8 mm in combination with the required swirl plate.
The nozzle set includes a nozzle head with preinstalled flat spray nozzle.
Which product is the universal plastic nozzle recommended for?
The universal plastic nozzle is particularly suitable for treating single plants. It is adjustable, from fine mist with a hollow cone-shaped spray pattern to a spot spray.
The universal nozzle is suitable for the products
SOLO 408 – 409 – 453 pressure sprayer
SOLO 456 – 457 – 458 pressure sprayers
SOLO 424 – 425 – 435 backpack sprayer
SOLO 473 D – 475 backpack sprayer Classic
Other accessories
Which pressure sprayer is the trolley suitable for?
The trolley is an optional accessory for the pressure sprayer 309 FA & FB from the CLEANLine series and pressure sprayer 458.
The practical trolley is quickly assembled and features large, easy-grip wheels that include an axle and a handle for easy tilting and moving of the pressure sprayer.
This makes the pressure sprayers 458 & 309 FA/FB easy to transport and eliminates the need to carry it.
After switching off the manual valve, there are always drips. How can I prevent this?
In order to prevent dripping after the manual valve has been turned off, we recommend – especially when using telescopic spray wands – using our ball valve filter with stainless steel filter insert (item no.: 49539)
.
Simply insert under the spray nozzle instead of the standard filter. The filter is fitted as standard on SOLO spray booms 49514 and 49299. Opening pressure 0.3 bar. Mesh count 50 mesh, ISO compliant.