Foam sprayer 9L, pH range 7-14 – 309 FB
The large SOLO 309 FB foam sprayer with EPDM seal holds 9 litres and is suitable for alkaline cleaning agents (pH range 7-14). For professional application of cleaning foam on medium-sized to large areas.
Available, delivery time 2-5 days
Sicherer Versand
DACH Region
Kostenlose Rückgabe
Innerhalb von 30 Tagen
Sichere Bezahlmöglichkeit
Verschlüsselte Übertragung
Product information "Foam sprayer 9L, pH range 7-14 – 309 FB"
The 309 FB foam sprayer from the CLEANLine range is equipped with the adjustable varioFOAM foam nozzle patented by SOLO. By turning the adjustment wheel, the moisture level of the foam can be individually adjusted even while in operation. The setting can thus be adjusted to drier, firmer foam types or wetter, gel-like foams. By optimally setting the foaming level, the exposure time and thus the cleaning outcome during spraying can be improved.

The EPDM seal of the foam sprayer is suitable for the application of alkaline cleaning agents with foaming properties in the pH range 7-14 and for disinfectants with foaming properties. The lightweight and extremely robust container is UV-resistant, holds 9 litres and is equipped with a sturdy base. The large filling aperture and clearly readable scale make for easy and accurate filling.
Thanks to a large pump, the maximum pressure of 3 bar can be quickly reached to provide an outstanding foaming pattern and longer work intervals. Pressure in the container can also be released using a safety valve to enable emptying, refilling or cleaning. Pressure greater than 3 bar is automatically lowered by this valve.

Used in conjunction with the appropriate foaming agent, this sprayer is particularly suitable for:
Car washing, wheel rim cleaning and workshops



Bicycle cleaning
Kitchens, restaurants and food-processing operations
Agricultural operations
Swimming and wellness baths
Cleaning services for buildings or industry.
Also ideal for foam cleaning sensitive surfaces such as carpets and textiles.

Suitable for smaller to medium-sized surfaces.


Optional accessories for the 309 FB: SOLO 49211 trolley with sturdy tubular handle. Makes the foamer easy to move around and set down safely.
Technische Daten
application cleaning/ disinfection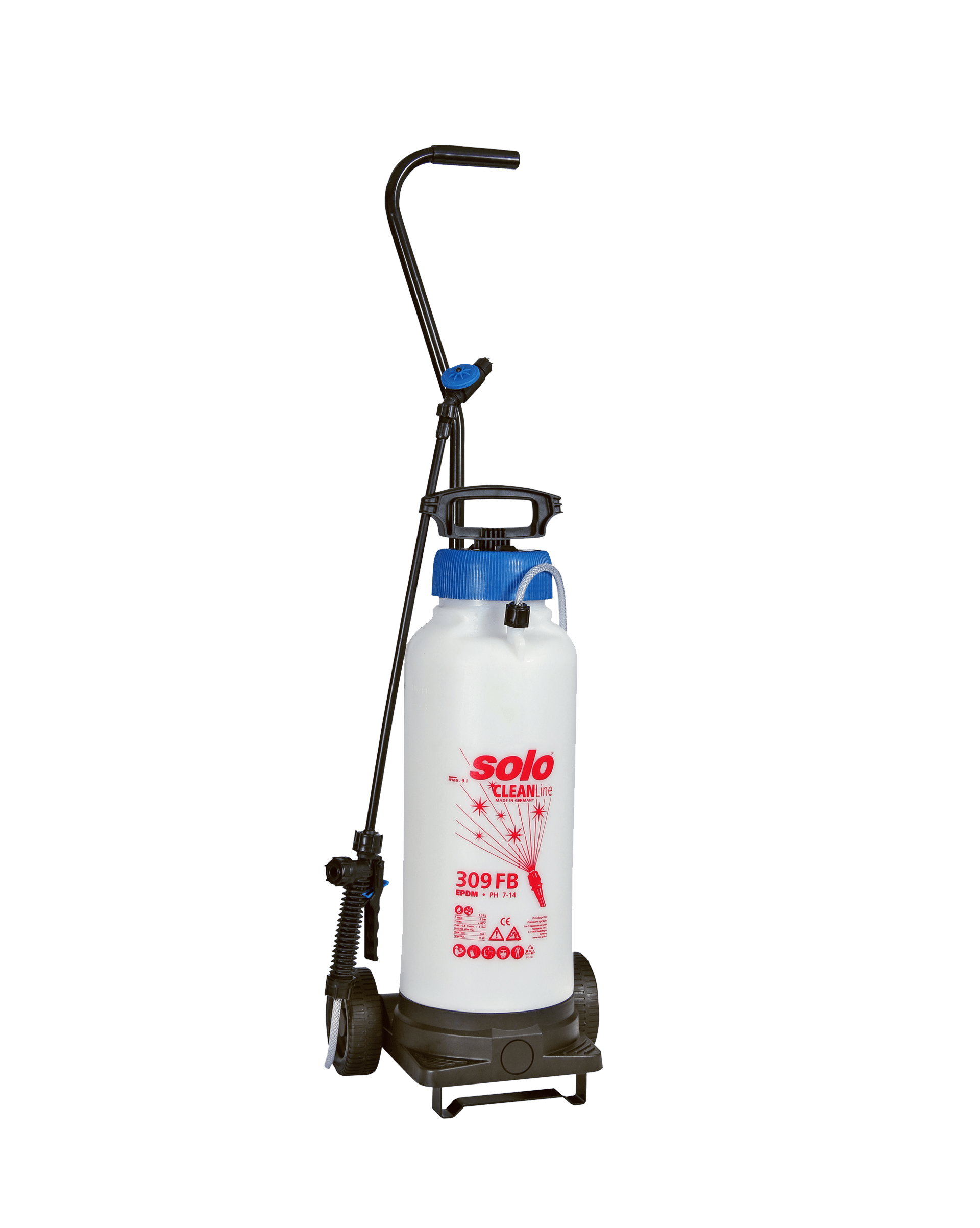 ---
Top Qualität für einen anständigen Preis
Ich hatte vorher einen günstigen No Name Sprüher aus dem Baumarkt, dessen Qualität unter aller Sau war. Mit diesem Markensprüher bin ich völlig zufrieden. Es schäumt prima und man kann den Schaum problemlos dank des Rädchen einstellen. Den Radsatz habe ich zusätzlich gekauft und es ergänzt sich perfekt.