Pressure sprayer 5L - 461
A convenient, lightweight and reliable all-round pressure sprayer for home users with particularly high quality expectations. The powerful, easy-action pump allows pressure to be built up effectively and fast. A highly robust manual valve with actuation lock facilitates easy and fatigue-free working.
Available, delivery time 2-5 days
Sicherer Versand
DACH Region
Kostenlose Rückgabe
Innerhalb von 30 Tagen
Sichere Bezahlmöglichkeit
Verschlüsselte Übertragung
Product information "Pressure sprayer 5L - 461"
The SOLO 461 pressure sprayer from the Comfort line features a stable, robust, UV-resistant and semi-transparent tank with 5 litre fill capacity and integrated fill level marking. The pump piston with carrying handle is made from robust plastic material. At just 1.5 kg, the unit is very lightweight. With its 1.6 m long, 25 mm wide, length-adjustable strap, this pressure sprayer can be easily carried over the shoulder.
A powerful, easy-action pump enables rapid and effective pressurisation to up to 3 bar. The large, sturdy pump handle in a robust material includes a clamping retainer for the wand. The handle can be quickly changed from carrying function to pump operation in less than a quarter turn.
The easy-to-use, automatic pressure valve limits the pressure for the safety
of the user. The valve can also be used to release the pressure in the container manually, e.g. once the spraying task is completed.
The 1.4 m transparent pressure hose is kink-resistant and allows a convenient
radius of action. A highly robust manual valve with actuation lock facilitates easy and fatigue-free working. The wand is made of a flexible, non-breakable and chemically resistant plastic. The standard scope of delivery includes a two-part hollow cone nozzle and a flat spray nozzle.
The cover unit, which can be completely removed from the container, is made from a special impact-resistant plastic. As well as the entire pump, this contains an accessories compartment with a hinged, lockable cover allowing secure storage of changeover nozzles and seals.

Technische Daten
Capacity 5L
Hand-held Can be carried from the shoulder
Spray pressure 3 Bar
application Pest control , plant care
mode of application spritz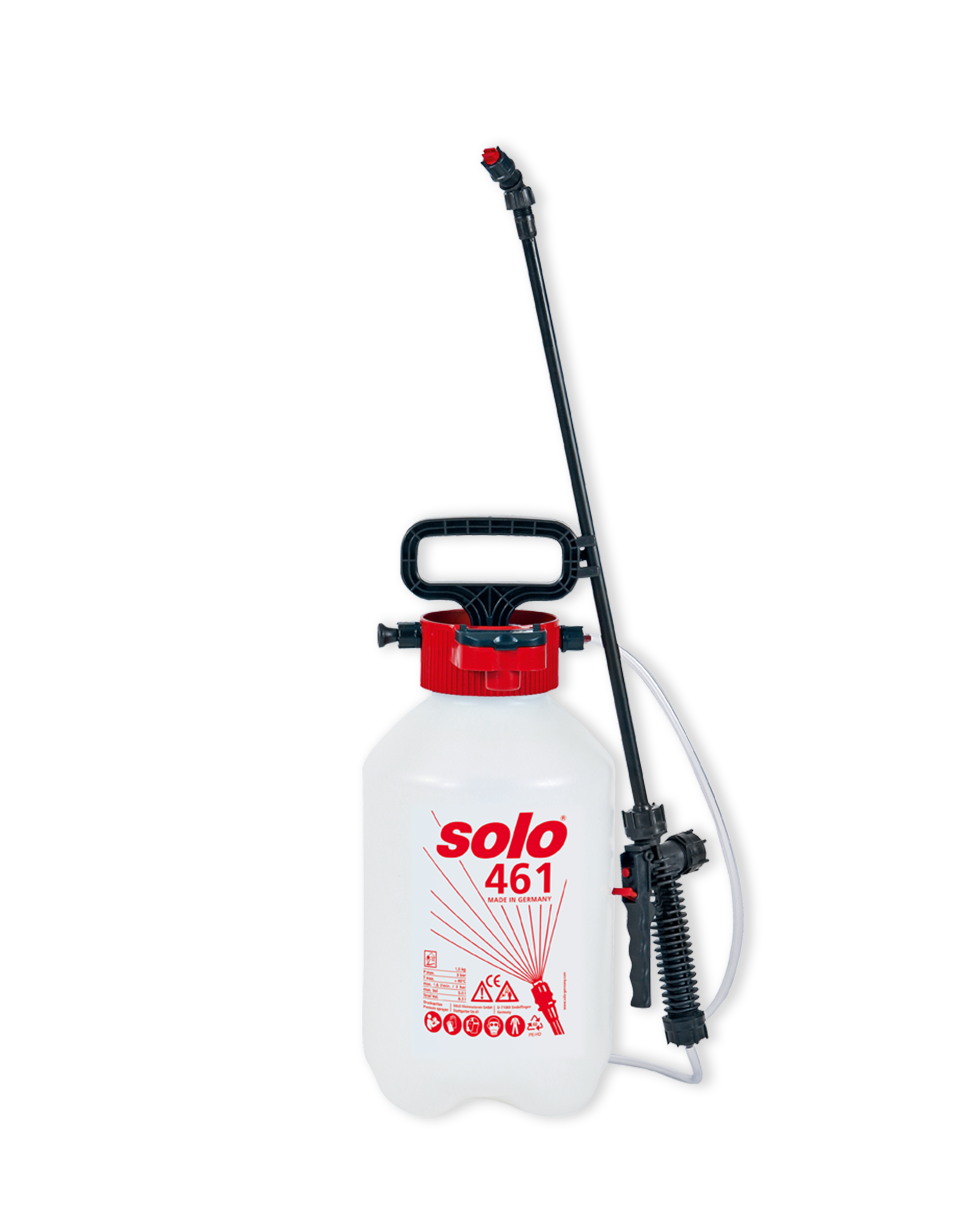 ---
Als Gärtner hatte ich mehrere Sprühgeräte, und dies ist das beste, das ich je benutzt habe. Es hält den Druck, ohne ständig aufzupumpen. Das Sprührohr ist aus biegsamem Kunststoff und bricht nicht. Zwei Düsen decken jeden zu besprühenden Bereich ab.