The high-quality, highly practical SOLO 421 granulate spreader is a manually operated unit for uniformly spreading granulates such as fertiliser, seed or winter grit. It is lightweight, robust, can be used all year round and is space-saving in storage.
Available, delivery time 2-5 days
Sicherer Versand
DACH Region
Kostenlose Rückgabe
Innerhalb von 30 Tagen
Sichere Bezahlmöglichkeit
Verschlüsselte Übertragung
Product information "Granulate spreader – 421"
The SOLO 421 granulate spreader spreads fertiliser, winter grit, seed, granulated lime, animal feed, dry lawn sand and many other granulates extremely evenly. It features an ergonomically shaped rear side and an adjustable comfort strap. Weighing just 2.5 kg, the granulate spreader is therefore comfortable to wear on the body. This makes it easy to use in a variety of situations including in inaccessible or steep areas.

The container volume of 9 litres facilitates sufficiently long work intervals and rapid work progress. The cover can be easily screwed on in a quarter turn. The very wide filling aperture with 14.5 cm diameter facilitates filling and cleaning the unit.
The easy-action side-mounted steel crank is used to drive a spreader disc, which distributes the granules very evenly on the ground. The lateral spreading of the granules reachs the level of agricultural spreaders. The SOLO 421 granulate spreader can attain a rate of surface coverage of roughly 5000 m² per hour.
The throw direction of the granules and the spread rate are easy to adjust on the unit using a slider. Accordingly, the spread rate and spread pattern can be adapted to different requirements and working conditions. The built-in agitator keeps the granules in the container in constant motion, therefore preventing any clumping and ensuring uniform flow and exact distribution.
The robust metal worm gear is situated in a sturdy gearbox, is protected from corrosion and is maintenance-free.
Technische Daten
Capacity 9L
Hand-held Can be carried from the shoulder
application Pest control , agriculture/ forestry , plant care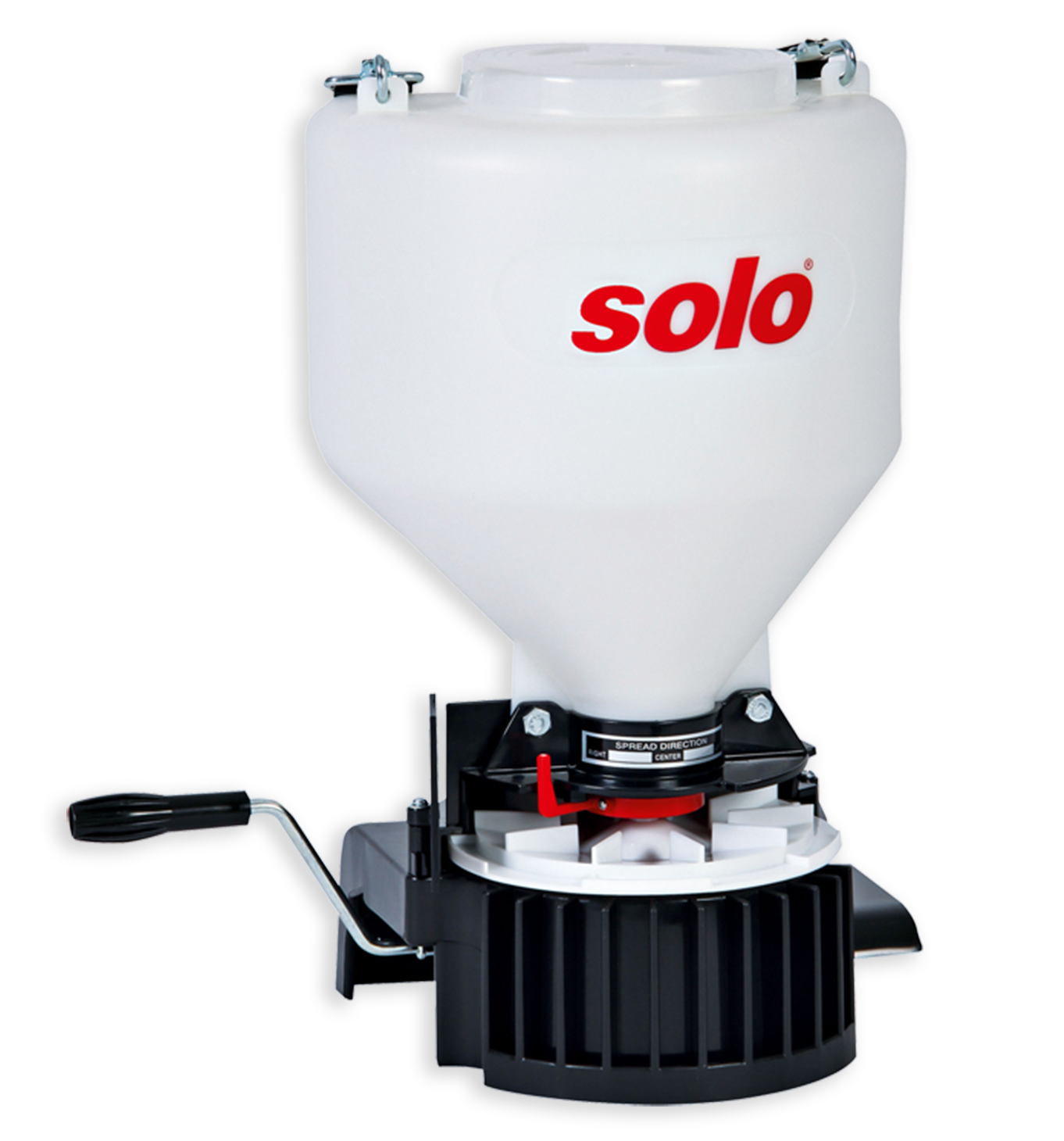 ---
Perfekter Düngerstreuer!!!!!!!
Absolut zufrieden mit diesem Produkt! Habe schon viele vergleiche gesehen. Solo Produkte sind alle sehr hochwertig und für den Profi Einsatz gedacht. Natürlich auch für normale Haushalte vorgesehen. Vorteil von diesem Streuer ist die optimale Verteilung, besser als ein Streuwagen wo man immer genau in der Spur bleiben muss. Habe die Woche schon einige Hundert (m2) Rasenfläche gedüngt und bin absolut zufrieden mit dem Streuergebnis und der Reichweite. Ist angenehm Zutragen! Klar kostet er etwas mehr wie die Baumarktgeräte, aber ist meiner Meinung nach jeden Euro wert! Würde ihn immer wieder kaufen! 5 Sterne sind eindeutig verdient!