Battery sprayer 6L – SOLO EAZY 206
The new SOLO EAZY 206 battery-operated sprayer – Made in Germany – offers plant protection for domestic users.
Sicherer Versand
DACH Region
Kostenlose Rückgabe
Innerhalb von 30 Tagen
Sichere Bezahlmöglichkeit
Verschlüsselte Übertragung
Product information "Battery sprayer 6L – SOLO EAZY 206"
SOLO is presenting an entirely new class of equipment in its compact EAZY 206 battery-operated sprayer. Not only the container is new with its six-litre capacity and large filling and cleaning aperture. The really new feature is the flexibility offered to the user by the EAZY 206.

It can be held in your hand by the ergonomically shaped carrying handle, supported over the shoulder with the wide adjustable strap included or placed on the floor. Thanks to its spiral hose, this little sprayer offers plenty of freedom of movement and reach even when used this way. The spray pattern can be adapted to the task in hand by rotating the adjustable universal nozzle. Robust and lightweight, it comes with a rechargeable lithium-ion battery that offers up to 170 minutes of continuous operation and recharges in just two hours. The powerful, durable electric pump supplies an operating pressure of 2.5 bar. The spray-protected switch is mounted on top of the unit and is easy to operate. The compact rechargeable battery is easy to access from outside and can be removed easily for recharging in an external charger. To prevent any dirt reaching the contacts, the battery compartment cover is held closed by a spring.
Plus points when operating this unit
• Quiet, emission-free: Plant protection for home and garden without hand pumping and with constant
spray pressure
• Lightweight, handy 6 litre unit
• Compact lithium-ion battery can be changed in seconds
• High battery capacity for up to 170 minutes operating time for just two hours' recharging
• Practical fold-down carrying handle, shoulder strap and spiral hose
Sturdy construction
• Robust container with UV protection, integral carrying handle and spray wand retainer
• Sturdy base for stability
• Ergonomic manual valve and unbreakable wand
Comprehensive, practical equipment
• No more pumping – practical battery technology for plant protection in smaller spaces
• Continuous pump operation ensures constant pressure
• Very compact rechargeable battery with external charger
• Spiral hose, fold-down carrying handle and shoulder strap for diverse modes of use: whether carried in your hand, worn on your shoulder or placed on the ground, the practical spiral hose offers the maximum possible radius of action.
• Compact, robust container with extremely large filling aperture for rapid, safe filling and interior cleaning
• Fold-down carrying handle with integrated spray wand retainer, saving space and allowing the wand to be stowed safely after use
• Adjustable universal hollow cone nozzle
Technische Daten
Article with matching accessories Battery sprayer 6L – SOLO EAZY 206
Capacity 6L
Hand-held Can be carried from the shoulder
Spray pressure 2,5 Bar
application Pest control , plant care
mode of application spritz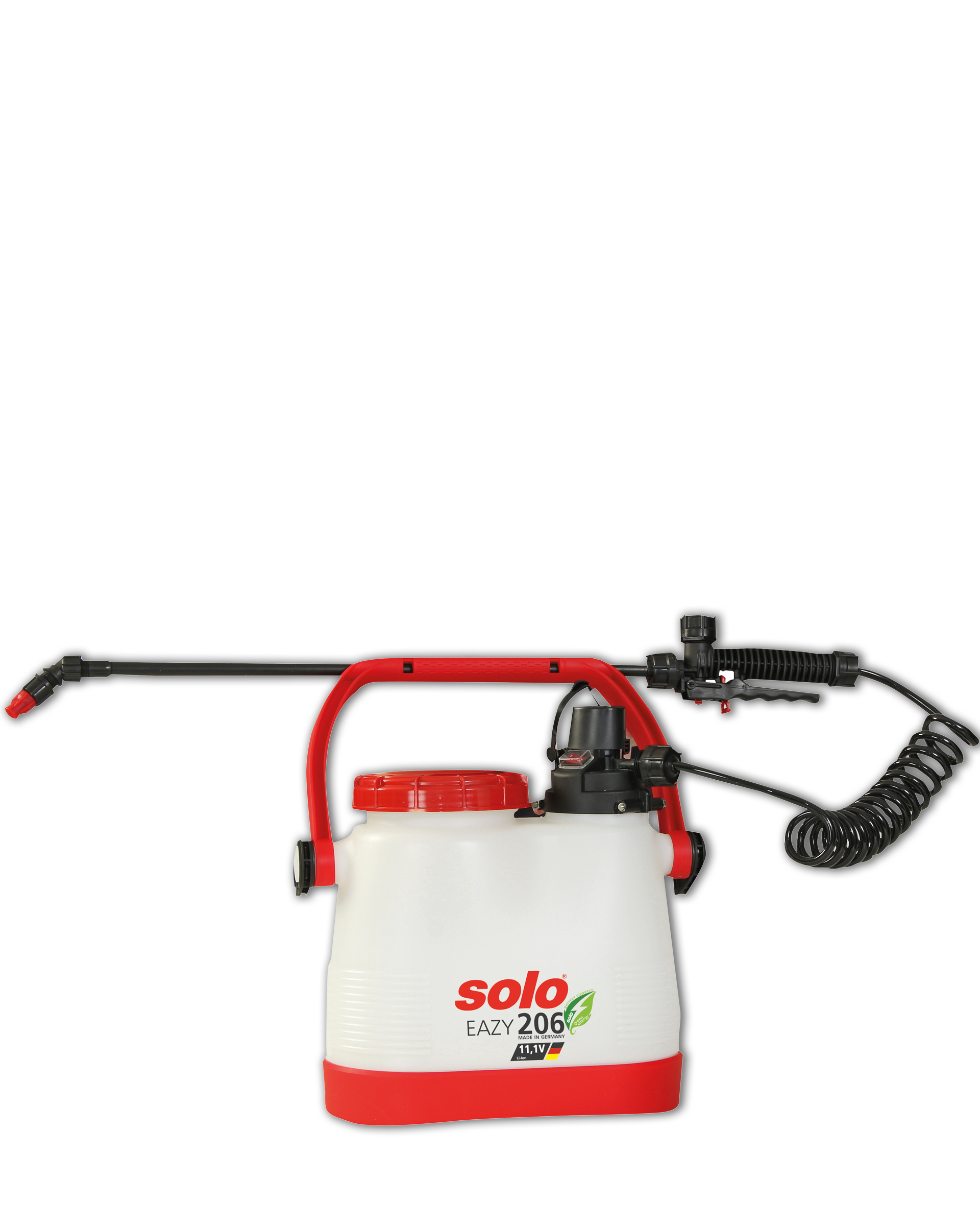 ---
Entspricht voll meinen Erwartungen und eine schnelle Lieferung. Super einfach zu bedienen, bequem zu tragen und auch für Frauen geeignet. Kann ich weiterempfehlen, vor allem wenn man nicht selber pumpen will.