Battery backpack sprayer 20L – 416 Li
For professional use in market gardens, greenhouses and garden and landscape design: the SOLO 416 Li battery backpack sprayer is the right choice for more intensive use both indoors and outdoors. This lightweight, robust unit features a high-capacity lithium-ion battery offering an operating time of almost 6 hours.
Available, delivery time 2-5 days
Sicherer Versand
DACH Region
Kostenlose Rückgabe
Innerhalb von 30 Tagen
Sichere Bezahlmöglichkeit
Verschlüsselte Übertragung
Product information "Battery backpack sprayer 20L – 416 Li"
The SOLO 416 Li battery-operated backpack sprayer from the Pro line is quiet, emission-free and with low vibration levels. It features a compact, powerful and lightweight lithium-ion battery. The high battery capacity is sufficient for up to 6 hours of operation. With its high-quality carrying system with padded strap, back cushioning and abdominal belt makes this battery backpack sprayer comfortable to carry.
The large tank with 20 litre fill capacity is UV-resistant, offers fill level marking an extremely wide filling aperture for fast, safe filling and ease of cleaning. The large container cover with large operating handle is quickly closed with a quick-lock fastener. With its large removable stainless steel filling strainer with very fine mesh, this battery backpack sprayer can be filled very quickly and safely.
The tubular aluminium frame and protective housing have a practical door opening for quick and practical access to the battery, pump, wiring and container discharge.
The 11.1 V electric pump creates a spray pressure of 2.5 or 4.3 bar. The pressure and delivery rate can be selected in two levels using a practical rocker switch. Includes a high-quality pressure gauge with bump guard and vibration damping.
This battery-backpack sprayer is equipped with an ultra-lightweight 50-90 cm carbon telescopic wand, a robust braided hose and a high-quality changeable flat spray nozzle. The sturdy upright spray wand retainer on the container allows safe and space-saving storage of wand and nozzle.
*Batteries must not be disposed of in domestic waste. Please observe the warnings for correct disposal. You can find a data sheet with this information in the download area for the relevant product.
Technische Daten
Capacity 20L
Drive type Battery
Hand-held backpack-mounted
Spray pressure 2,5 Bar , 4,3 Bar
application plant care
mode of application spritz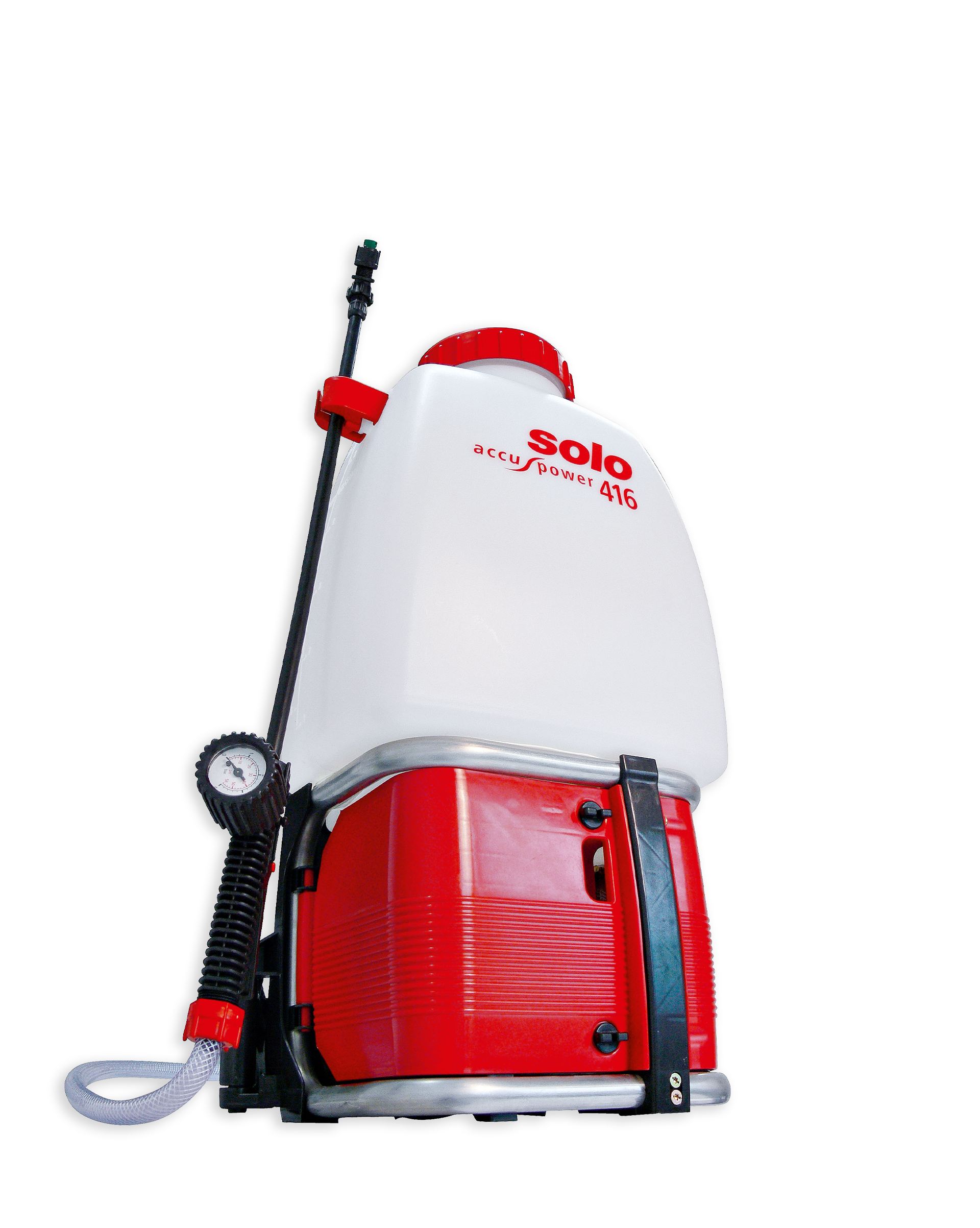 ---
Sehr gute Verarbeitung. Große Einfüllöffnung mit herausnehmbaren Sieb. Gut ablesbare Literskala. Optimales Teleskopgestänge. Relativ leises Arbeitsgeräusch der Pumpe. Konstanter Druck. Problemloses Ablaufen der Restbrühe durch separaten Schlauch. Lediglich Absperrhahn öffnen. Leicht zu spülen. Wenn man wie ich, Jahre mit einer Handpumpe gearbeitet hat, ist die Ausbringung mit dieser Pumpe echt ein Traum.